Vince Foster's Sister Slams Trump's 'Craven' Revival of Clinton-Murder Conspiracy Theory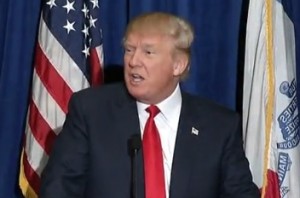 Sheila Foster Anthony, sister of the late Vince Foster, is raking Donald Trump across the coals for using the conspiracy theories about her brother's "murder" as a weapon against Hillary Clinton.
"How wrong. How irresponsible. How cruel," Anthony wrote. "How could this be coming from the presumptive Republican nominee for president?"
Foster worked as a White House aide until his death in 1993, but even after multiple investigations deemed it a suicide, rumors have persisted that his death was orchestrated by the Clintons. Trump revived these rumors when he said the circumstances of Foster's death were "very fishy," but in a Washington Post op-ed, Anthony described how she watched her brother deal with a taxing job and serious depression while they lived together:
"I told him I would try to find a psychiatrist who could help him and protect his privacy. After a few phone calls, I gave him three names. That list was found in his wallet with his body at Fort Marcy Park in McLean. I did not see a suicide coming, yet when I was told that Vince was dead I knew that he had killed himself. Never for a minute have I doubted that was what happened."
Anthony went on to say that the conspiracy theories have caused years of "untold pain" to her and her family, and that Trump's revival compelled her to speak publicly about them for the first time.
"For Trump to raise these theories again for political advantage is wrong," Anthony said. "I cannot let such craven behavior pass without a response."
[Image via screengrab]
— —
>> Follow Ken Meyer (@KenMeyer91) on Twitter
Have a tip we should know? tips@mediaite.com