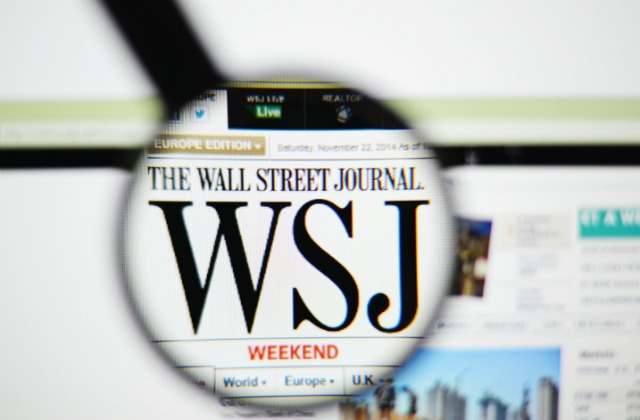 The Wall Street Journal has fired foreign affairs correspondent Jay Solomon after discovering what they are calling a serious violation of his "ethical obligations as a reporter."
The Associated Press has a detailed report on Solomon's firing today and how the paper discovered he had been involved in "prospective commercial deals… with an international businessman who was one of his key sources":
The reporter, Jay Solomon, was offered a 10 percent stake in a fledgling company, Denx LLC, by Farhad Azima, an Iranian-born aviation magnate who has ferried weapons for the CIA. It was not clear whether Solomon ever received money or formally accepted a stake in the company.
Farhad Azima was the subject of an in-depth Associated Press report yesterday, and the AP says today that they had "obtained emails and text messages between Azima and Solomon, as well as an operating agreement for Denx dated March 2015, which listed an apparent stake for Solomon."
Solomon himself provided the AP with this statement:
"I clearly made mistakes in my reporting and entered into a world I didn't understand. I never entered into any business with Farhad Azima, nor did I ever intend to. But I understand why the emails and the conversations I had with Mr. Azima may look like I was involved in some seriously troubling activities. I apologize to my bosses and colleagues at the Journal, who were nothing but great to me."
And the Journal has this statement out:
"We are dismayed by the actions and poor judgment of Jay Solomon. While our own investigation continues, we have concluded that Mr. Solomon violated his ethical obligations as a reporter, as well as our standards."
Politico's Hadas Gold reports on just how Journal staffers found out about this:
Washington Bureau Chief Paul Beckett made the announcement to staff during a hastily called meeting on Wednesday after meeting with senior editors in New York the day before. Beckett did not elaborate on Solomon's situation, only to say that an upcoming Associated Press investigation would have more details. Beckett took no questions and asked any staffers who knew anything about the situation to come forward, according to multiple sources.
[image via Gil C / Shutterstock.com]
— —
Follow Josh Feldman on Twitter: @feldmaniac
Have a tip we should know? [email protected]
Josh Feldman - Senior Editor