WaPo and NY Times Report Misleading Shooting Stats, Cite Reddit As Their Source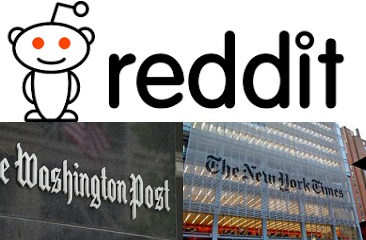 In the wake of the San Bernardino shooting Thursday, The Washington Post and The New York Times both reported on an extremely disturbing statistic about gun violence. Did you know that statistically, a mass shooting happens every day in the U.S.? That's right, there are on average more than 365 mass shootings a year!
On first glance, this would appear to be a massive indictment of their own newsrooms. If there's on average a mass shooting every day, how did the Post and Times manage to miss so many? The shootings in California and Colorado received a great deal of press coverage over the past two weeks, but why did the national media ignore those dozen or so other mass shootings?
The answer of course is that the definition of "mass shooting" used by their source, ShootingTracker.com, is much more expansive than what most people would consider a "mass shooting." Gangland killings, murder-suicides, as long as there are multiple injuries (not even necessarily deaths) the tracker considers it a mass shooting.
Here, for example, is one of the "mass shootings" the tracker included in its list, under the ominous headline "4 shot outside Jersey City housing complex":
A pair of township boys are accused of shooting four others with a pellet gun, police said.

Nobody was seriously hurt by the 11- and 12-year-old boys who shot the pellet gun at them on April 25 in the Twinbrook Village apartment complex, Detective Lt. Kevin Faller said in a statement.
Oh, the humanity! I think Spike Lee worked this scene into Chi-Raq.
So yeah, take that statistic with more than a grain of salt. But even if Shooting Tracker was completely accurate, there's a much more pressing reason why the newspapers of record should have balked at citing it as a source. It isn't run by experts or criminologists: it's run by Reddit. Specifically, a subreddit called Guns Are Cool.
Now, I don't mean to be down on Reddit, which is one of the most popular sites on the web for a reason. But the Times and Post are two of the newspapers of record for the entire United States. I had always presumed that even citing a very accurate user-run site like Wikipedia wouldn't be up to their editorial standards, let alone a website whose users are disproportionately young and lack high school degrees.
Needless to say, the young minds behind Guns Are Cool don't even pretend to be objective, serious statisticians:
Gun owners have shot 4.5 million Americans in 45 years and managed to kill 1.34 million of them. While some might call that a tragedy, the NRA would call it a good start! There are 300,000,000 guns in the USA, but we need more!  …Together, we can loosen whatever watered down laws we have left. Join the NRA and you do just that!
At least the Post is open about the fact that they're citing Reddit. But the Times omits that information entirely. Neither felt the need to share the ideology behind the project.
The Times and Post are in good company by the way. CBS News, The Economist, Esquire, CNN, LA Times, The Guardian, MSNBC, NY Daily News, The Independent, USA Today, and The Daily Show with Jon Stewart have all cited Shooting Tracker in the past two years. Some of those sources noted that they were citing a bunch of amateurs on a social media site. Most didn't.
So what on earth compelled more than a dozen respectable media outlets to regurgitate findings from a liberal forum as if it were the gospel truth? I find it hard to believe that if a bunch of Redditors ran some numbers and came out with findings that contradicted liberal sensibilities on guns (or abortion, or climate change, etc.), the mainstream media would trumpet it from on high. The simplest explanation is that they found a site that confirmed their biases and rather that treating it incredulously, they ran with it.
So my advice to the media is this: by all means continue to report troubling statistics about gun violence in America. But please, stick with the actual experts.
[Image via screengrab]
——
>>Follow Alex Griswold (@HashtagGriswold) on Twitter
This is an opinion piece. The views expressed in this article are those of just the author.