WaPo Boosts the Pinocchio Count on Clinton Email Claim After FBI Announcement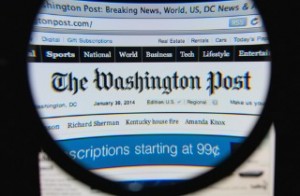 With the FBI releasing more details of what Hillary Clinton and her team did regarding her emails, the Washington Post revisited an old claim of Clinton's that they fact-checked.
For months and months and months, Clinton claimed she "never sent nor received any e-mail that was marked classified," and she also swiped at the State Department for overclassification.
At the time, WaPo fact-checker Glenn Kessler wrote, "The classification rules are complex but, legal technicalities aside, the question is whether classified information was exchanged over her private e-mail system. Never mind the IG's concerns. According to the State Department redactions of the released e-mails, the answer is yes. Clinton earns Two Pinocchios for excessively technical wordsmithing."
But today, FBI Director James Comey said that Clinton and her aides were "extremely careless in their handling of classified information," and those previous statements of hers were completely untrue.
So Kessler went back today and updated the original post to reflect this new information, giving Clinton four Pinocchios instead of two:
[Comey] said out of 30,000 emails that Clinton returned to the State Department, 110 emails in 52 email chains were found "to contain classified information at the time they were sent or received" — a contradiction to Clinton's original, technical wording about whether or not classified materials were in her emails. Eight of the chains contained information that was "top secret" at the time they were sent. Thirty-six chains contained "secret" information. Eight contained "confidential" information, the lowest classification…

In light of this information, we update the original Two Pinocchio rating to Four Pinocchios.
[image via Shutterstock]
— —
Follow Josh Feldman on Twitter: @feldmaniac
Have a tip we should know? tips@mediaite.com
Josh Feldman - Senior Editor