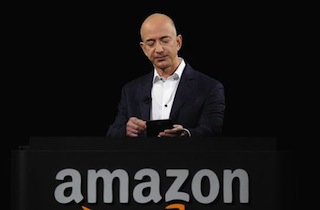 It's been almost one week since the New York Times reported on an alleged dispute between Amazon and book publisher Hachette. Guess what paper hasn't made a peep about the story? The Washington Post, purchased last summer by Amazon owner Jeff Bezos.
David Streitfeld reported in the Times last Thursday that Hachette's books are being marked as "unavailable" for weeks after their publication date, and are taking anywhere from the three to five weeks to ship, considerably longer than Amazon's normal two-day delivery. Amazon has not been shy in the past about using such methods to extract desired discounts from booksellers.
The company declined to comment to the Times. But this week, multiple sources have wondered where the Post's coverage on the story is. Melville Books blogger Alex Shephard believed "the omission to be an innocent one," but noted that the Post covered Amazon's 2010 dispute with Macmillan multiple times.
Post executive editor Martin Baron denied any conflict of interest. "The story was reported in the New York Times on Saturday," he told POLITICO. "With a staff nearly twice our size, the Times has full-time coverage of the book industry, which is based in New York. We do not. Having now become aware of the subject, we're looking into it. We don't discuss what we might publish or when. But, as always, coverage decisions are based on available resources and our own independent editorial judgment."
Jim Romnesko flagged the parting advice of ex-ombudsman Patrick Pexton, who has not been replaced: "If the Post doesn't cover the crap out of Amazon, then the paper isn't doing its job, and will get grief from a thousand media outlets for not doing so."
[h/t Melville Books / POLITICO]
[Image via Gus Ruelas/Reuters]
——
>> Follow Evan McMurry (@evanmcmurry) on Twitter
Have a tip we should know? tips@mediaite.com