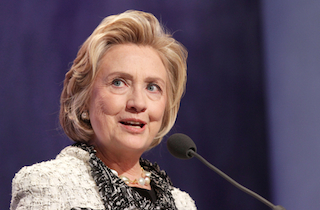 Prohibitive Democratic frontrunner Hillary Clinton kinda-sorta indicated this weekend where she stood on the controversial trade negotiations currently stymied by congressional Democrats, earning a rebuke Tuesday morning from the Washington Post editorial board.
House Democrats rejected a provision Friday, stalling the bill to grant President Barack Obama fast-track authority to approve the Trans Pacific Partnership, a massive and in-progress trade deal that touches 40% of the world's economy. Democrats wants stronger labor protections, among other concerns, while Obama has largely worked with congressional Republicans to push the bill.
Meanwhile, many looked to Clinton, who supported the trade deal as Secretary of State but remained mum on the issue as a candidate — until Sunday, when she appeared to side with Minority Leader Nancy Pelosi (D-CA), advising Obama to use the deadlock in Congress to negotiate a tougher bargain. (Note that Clinton did not actually oppose the bill.)
RELATED: Stephanopoulos Presses Clinton Official on Trade: 'It's Pretty Simple'
That's bollocks, the Post said. Dismissing Democrats' objections as "simplistic," the Board counseled Clinton to read her own book, released to poor reviews last year:
Imagine if she had read from her memoir, published just last year under the now ironic title "Hard Choices": The TPP, Ms. Clinton wrote, "was also important for American workers, who would benefit from competing on a more level playing field. And it was a strategic initiative that would strengthen the position of the United States in Asia."
"Instead, Ms. Clinton broke her silence on the issue only long enough to equivocate about it," the Board wrote. "Or, as she did Monday, to expand on the "legitimate" concerns of opponents of the TPP — and second-guess the president's strategy."
The board concluded by demanding a straight answer on whether Clinton believed Obama should have fast-track authority, which would allow him to pass the eventual trade deal through Congress without amendments that could potentially sink it.
[h/t Washington Post]
[Image via JStone / Shutterstock.com]
——
>> Follow Evan McMurry (@evanmcmurry) on Twitter
Have a tip we should know? tips@mediaite.com