WaPo Media Columnist Points Finger at CNN President Jeff Zucker for Trump's Rise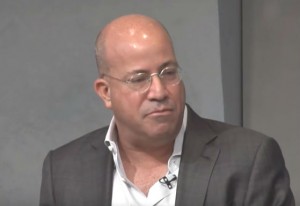 Former New York Times public editor and current Washington Post media columnist Margaret Sullivan has one person in particular that arguably deserves blame for the rise of Donald Trump: Jeff Zucker.
See, Zucker was the president and CEO of NBC Universal back when The Apprentice was in its prime, and he is currently the president of CNN Worldwide, a role he held throughout the 2016 election.
And considering how much NBC raised his profile and then CNN last year started going all-out with it, Sullivan argues that this is actually kind of a big deal because "there would be no Trump-the-politician without Trump-the-TV-star."
For months, CNN personalities have publicly argued that Trump just agreed to do interviews way more often than his competitors. But that doesn't exactly factor into the excitement they (and let's be honest, their cable news competitors too) gave Trump on a daily basis, taking his speeches live way more often than anyone else.
And this is where Sullivan gets to that whole "journalistic responsibility" consideration:
Can you blame a TV executive such as Zucker for doing his job — striving for the highest possible ratings and profits?

Maybe not at NBC, where as the head of the entertainment division, Zucker bore no responsibility to the public interest when he made Trump a reality-show star.

But when it comes to CNN's news coverage — its journalism — that's a different matter. Decisions about covering a presidential campaign should consider what's best for citizens as well as what's best for Time Warner's shareholders.
Last year Zucker defended CNN's Trump coverage in an interview where he took some pretty big shots at BuzzFeed. (Which now seems amusing in hindsight.)
[image via screengrab]
— —
Follow Josh Feldman on Twitter: @feldmaniac
Have a tip we should know? tips@mediaite.com
Josh Feldman - Senior Editor