WaPo Op-Ed: Christian Celebration of the Virgin Mary is Hurtful to Rape Victims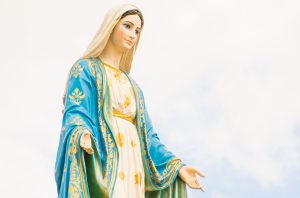 The Washington Post published an op-ed Friday by a pastor who complained that the annual Christmastime celebration of the Virgin Mary was hurtful to her as a rape victim.
"Our culture of purity celebrates the Virgin Mary. As a rape victim, that hurts me," wrote Rev. Ruth Everhart, complaining that, "Church culture tends to be fixated on sexual purity year-round, but during Advent, I'm tempted to blame it on the Virgin Mary. After all, she set an impossibly high bar. Now the rest of us are stuck trying to be both a virgin and a mother at the same time. It does not seem to matter that this is biologically impossible.
Everhart said that after being raped at gunpoint at the age of 20, "every Advent I feel a sense of kinship" with the Virgin Mary. "I know what it's like to be a good girl whose life got upended by what someone did to her body."
"Still, I study her this time of the year — always dressed in blue with downcast eyes — and want to ask: 'How was it really? And how do you feel about what the patriarchy has done with you?'"
"Mary is not responsible for what we've done to her story. Church culture has overfocused on virginity and made it into an idol of sexual purity. When it comes to female experience, the church seems compelled to shrink and distort and manipulate," Everhart argued.
[Image via screengrab]
—
>>Follow Alex Griswold (@HashtagGriswold) on Twitter
Have a tip we should know? tips@mediaite.com