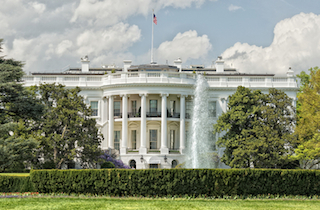 According to reporting by the Washington Post, the Secret Service bungled the response to a serious attack on the White House in 2011, when a gunman fired a semiautomatic weapon from a parked car down the street from the White House one night in 2011, breaking one window and hitting the rooftop not far from Secret Service snipers. The first couple was out of town, but the younger daughter Sasha and Michelle Obama's mother were both in residence.
The report comes just one week after another security lapse allowed a man with a knife to breach the White House.
RELATED: 'Great Job': Obama Praises Secret Service After Series of WH Security Breaches
The Secret Service decided that no shots had been fired and told agents to stand down. Four days later a housekeeper discovered the broken window, at which point Secret Service concluded there had been shots but said they had not been aimed at the White House but had been erratic fire from a gang fight. The shooter was able to fire the shots and make a getaway, caught only when he crashed his car several blocks away.
Some speculated that with the first couple out of town the agents on duty had gone into a sort of "casual Friday" mode, with one perimeter agent refilling his car at a gas station during the incident.
White House and Secret Service officials declined to comment, but WaPo reported that the Obama and the first lady were enraged by the security lapse.
[h/t Washington Post]
[Image via screengrab]
——
>> Follow Evan McMurry (@evanmcmurry) on Twitter
Have a tip we should know? tips@mediaite.com