WaPo Tracked Kim Jong-un's Maternal Aunt Living in NYC and the Story Is Pretty Nuts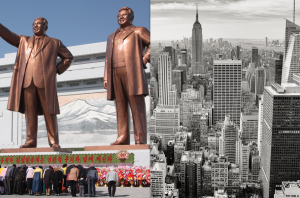 At 6:00 a.m. Friday morning, The Washington Post published an in-depth piece by Anna Fifield called, "The secret life of Kim Jong Un's aunt, who has lived in the U.S. since 1998."
The insert photo is of a couple — Ko Young Suk and Ri Gang, as they're known in North Korea — from behind, standing near the TKTS booth in Times Square, looking out at the glammed up hype of New York. They own a dry cleaning business and have lived here since 1998, and from the outside, are truly like so many other immigrant families.
The difference here of course is that their nephew is Kim Jong-un, the supreme leader of the DPRK whose erratic behavior and suspicious military actions from behind the walls of the enigmatic hermit kingdom have set the entire global community on edge.
Despite their anonymity, the author managed to track down the two through the help of lawyers and former North Korean defectors who would publicly discuss that even Kim Jong-un's own family wished to distance themselves from the cult of personality rule over the country. In preparation for the piece, WaPo spent an entire weekend with the couple, who requested that their names here in America not be released, large in part to protect their three grown children.
Here are some of the most shocking details to emerge from Friday's WaPo piece:
They were given a one-time payment of $200,000 by the CIA in 1998.
According to Ko and Ri, the CIA paid them handsomely when they resettled in the United States, and much of the money was spent on the home that they still occupy. It is in that home (exact area not disclosed) that the couple raised their children. They have two sons, ages 29 and 32, and a 23-year-old daughter as well, working in fields like computer science and math. Their names were also omitted from the WaPo report.
According to Fifield, "The family home is a large, two-story house with two cars in the driveway, a huge TV in the living room, a grill on a rear deck." They've even vacationed in Las Vegas.
Contrary to popular belief, Kim Jong-un was born in 1984.
The exact birthdate of the supreme leader is unknown to the global community, but his aunt verified to the Washington Post that he was "certainly" born in 1984, not 1982 or 1983 like many people believe. With a laugh, she recounted, "He and my son were playmates from birth. I changed both of their diapers."
They still provide information to U.S. intelligence all these years later.
Ko and Ri have been separated from their families in North Korea for nearly twenty years. But since the level of intel and understanding is so sparse on the hermit kingdom, they still provide some of the strongest links for US government officials to learn more about Kim Jong-un and his operations. As Fifield writes, "Sometimes, operatives from the CIA's national clandestine service come to town to show Ko and Ri photos of North Koreans and ask who the people are."
They refer to their nephew by a very specific name.
One of the more startling points of the report was the revelation that the husband is still actively trying to visit Pyongyang. They still seem to hold onto some pro-regime viewpoints, and will only call their nephew, "Marshal Kim Jong Un," and as the author notes, both are, "careful in what they say" about their nephew, despite the separations of both time and distance.
Kim Jong-un was "short-tempered" and would go on hunger strikes as a child.
While much may not be known or confirmed regarding the upbringing of Kim Jong-un, his aunt and uncle say that as a boy, his tendencies were shaped towards anger and frustration. "He wasn't a troublemaker but he was short-tempered and had a lack of tolerance," said his aunt. "When his mother tried to tell him off for playing with these things too much and not studying enough, he wouldn't talk back but he would protest in other ways, like going on a hunger strike."
They claim that they defected to help Kim Jong-un's sick mother.
The author makes note that perhaps since Ri is still trying to go back to Pyongyang, "he has reason" to present a slightly skewed account of their original defection. However, he claims that the move to the United States was done to help Kim Jong-un's mother, who had been diagnosed with breast cancer and was finding treatment in Europe unsuccessful.
They want to be an intermediary of sorts between the US and North Korea.
"My ultimate goal is to go back to North Korea. I understand America and I understand North Korea, so I think I can be a negotiator between the two," says the uncle. "If Kim Jong Un is how I remembered he used to be, I would be able to meet him and talk to him."
While that may sound like a dangerously foolish proposition to some, the fact remains that a contributing factor to them speaking out now is to perhaps lay the ground work for future relations. It may seem unfathomable to some — why would a family living the American dream with successful children consider risking it all to return to one of the world's most dangerous and unstable regimes, a place that has proven nothing but unkind to detractors of any sort? But, as the author admits, "the pull of the home town cannot be underestimated in Korean culture."
Read the full piece here at The Washington Post.
This is an opinion piece. The views expressed in this article are those of just the author.