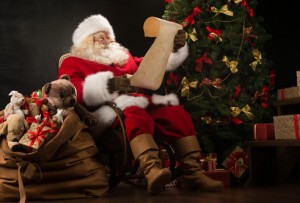 In the War on Christmas™, there's no time for breaks. Or facts, apparently, because some merry Christmas warriors berated a school for an outrageous story about a student getting suspended for wishing his atheist teacher "Merry Christmas." It was scandalous, horrible, and completely, utterly false. Yes, a hoax story on the satirical news site National Report fooled some angry Christians into harassing a San Francisco school.

The fake report was about "Argon Elementary" in San Francisco, and there happens to be an Argonna Elementary School in that very town, so things got crazy quickly.
[The story] result[ed] in e-mail tirades and more than 75 phone complaints and veiled threats of violence against the fictitious teacher or the actual principal. And taxpayers picked up the tab for beefed-up security and staff time to deal with the phony story.

Because of the threats, Argonne elementary school administrators called an emergency teacher meeting to review security procedures and district officials assigned an extra security officer to the campus. In addition, police have increased patrols around the school this week, said district Assistant Superintendent Leticia Salinas.
They reportedly got so many calls, the school ended up redirecting all callers to an automated message explaining it's a big hoax.
Ah well, still doesn't mean the War on Christmas™ is fake, right? Right?
[Correction: This post originally named the satirical website as the National Journal. It is actually the National Report. We've corrected this error.]
[h/t Raw Story]
[photo via Shutterstock]
— —
Follow Josh Feldman on Twitter: @feldmaniac
Have a tip we should know? tips@mediaite.com
Josh Feldman - Senior Editor