Washington Post's Opinion Leaders, NY Times Editorial Board Turn On Obama Over Intimidation Of Reporters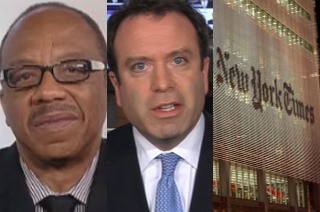 Two Washington Post columnists recently came out against tactics used by the Obama administration to monitor the activities of journalists and the government sources that would speak with them. They are joined by the New York Times editorial board which expressed frustration with the Obama administration and chided the Department of Justice for subpoenaing communications records of Fox News Channel investigative reporter James Rosen.

"The Obama administration has no business rummaging through journalists' phone records, perusing their e-mails and tracking their movements in an attempt to keep them from gathering news," declared The Post's Eugene Robinson in his editorial "Obama administration mistakes journalism for espionage."
RELATED: Fox's Bret Baier Reveals That DOJ Also Seized Phone Records For James Rosen's Parents
Robinson asserts that the criteria the DOJ has used to declare Rosen an "aider, abettor and/or co-conspirator" is exceedingly weak.
If this had been the view of prior administrations, surely Bob Woodward would be a lifer in some federal prison. The cell next door might be occupied by my Post colleague Dana Priest, who disclosed the CIA's network of secret prisons. Or by the New York Times' James Risen and Eric Lichtblau, who revealed the National Security Agency's eavesdropping program.
"Rosen has not been charged. Every investigative reporter, however, has been put on notice," he asserted.
Robinson is joined by his Post colleague Dana Milbank who wrote that, while the outrage over this abuse of federal power may be muted at the moment, it should not be. "The Rosen affair is as flagrant an assault on civil liberties as anything done by George W. Bush's administration, and it uses technology to silence critics in a way Richard Nixon could only have dreamed of," Milbank wrote.
To treat a reporter as a criminal for doing his job — seeking out information the government doesn't want made public — deprives Americans of the First Amendment freedom on which all other constitutional rights are based. Guns? Privacy? Due process? Equal protection? If you can't speak out, you can't defend those rights, either.
"If Obama really is 'a fierce defender of the First Amendment,' as his spokesman would have it, he will move quickly to fix this. Otherwise, Obama is establishing an ominous precedent for future leaders whose fondness for the First Amendment may not be so fierce," Milbank concludes ominously.
Robinson and Milbank's outrage over the administration's treatment of journalists was supported by the New York Times editorial board on Wednesday. The Times editorial notes that the investigation into Fox News Channel reporters, which included the subpoenaing of their phone records and those of relatives of Fox News employees, shows that "the Obama administration has moved beyond protecting government secrets to threatening fundamental freedoms of the press to gather news."
"The Rosen case follows other signs that the administration has gone overboard in its zeal to find and muzzle insiders," The Times writes. "Obama administration officials often talk about the balance between protecting secrets and protecting the constitutional rights of a free press. Accusing a reporter of being a "co-conspirator," on top of other zealous and secretive investigations, shows a heavy tilt toward secrecy and insufficient concern about a free press."
> >Follow Noah Rothman (@NoahCRothman) on Twitter
Have a tip we should know? tips@mediaite.com