Washington Post: Obama's Syria Policy 'Weak,' 'Lacks Coherence,' Invites 'Grave Damage To U.S. Interests'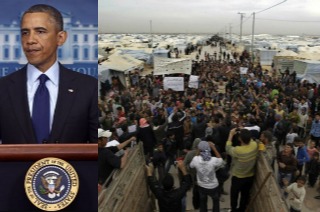 "The muddle that is President Obama's policy on Syria has grown still muddier," opens a scathing Washington Post editorial taking on President Barack Obama and his administration's unfocused and ad hoc policy relating to the ongoing bloody civil war in Syria, which his administration confirmed this week is now characterized by chemical warfare. The searing editorial calls Obama's policy "weak," and The Post suggests the president is being intentionally obtuse in order to allow him to back off his own "red line."

The Washington Post editorial notes that Obama's own "red line" has been crossed. After that fact had been established, however, the White House went about "setting the threshold for proof of a violation in such a way as to virtually exclude the possibility that one could ever be confirmed."
They note that Obama has, after backing off his red line, leaked that his administration is prepared to send material aid to the Syrian rebels – the abandonment of an earlier policy to avoid sending lethal support to Syrian opposition fighters. At the same time, the White House is preparing another ill-fated push to get Moscow to lead a diplomatic intervention with the aim of forcing Assad to leave the country.
RELATED: Polls: Americans Who Don't Know About Syria Don't Want U.S. To Get Involved
"Can any coherence be found in this?" The Post asks with exasperation. "His weak and legalistic words about the need to verify a "chain of custody" on any chemical-weapons use and his declaration that even a hard confirmation would lead only to a "rethink [of] the range of options" simply invite further chemical attacks."
The Post concludes that Obama's diplomatic efforts appear doomed to failure, while his equivocating on his own "red line" invites future episodes in which other global actors eager to test America's resolve will find new reason to do so.
"A slim chance for a political settlement may still exist but only if the United States and its allies take measures that decisively, and relatively quickly, shift the momentum of the war," The Post notes. "Only when the Assad army is defeated and the regime crumbles will a deal be possible."
They warn that, without active U.S. involvement beyond simply arming rebel factions, Syria is likely to dissolve into factionalism with continued bloodshed. An expansion of the conflict beyond Syrian borders engulfing local powers is also likely.
The Post urges the White House to reconsider Republican proposals to enact a no-fly zone over parts of the country.
Read the full editorial via The Washington Post
> >Follow Noah Rothman (@NoahCRothman) on Twitter
Have a tip we should know? tips@mediaite.com