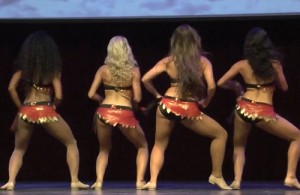 The National Football League is filing an appeal to a federal judge's July ruling that ordered the cancellation of the Washington Redskins' official trademark for offending various Native American groups. One of the legal team's main arguments stems from the observation that other trademarks contain disparaging remarks, phrases and references — especially to sex.
Republican presidential candidates Donald Trump and Jeb Bush both seem to think that the Redskins deserve to keep their trademark. Hell, even the ACLU voiced its mild support of the NFL franchise. But these endorsements just aren't enough.
Hence the aforementioned sex, which the NFL legal team references in the brief they filed last Friday with the U.S. Court of Appeals for the 4th Circuit in Richmond, Va. As the Washington Post points out, the counterargument asserts that countless examples of other derogatory patents filed with the U.S. Patent and Trademark Office discount the argument made in the July ruling.
The PTO has registered hundreds if Appeal: 15-1874 Doc: 29 Filed: 10/30/2015 Pg: 18 of 82 4 not thousands of marks that the Team believes are racist, or misogynistic, vulgar, or otherwise offensive. By way of example only, the following marks are registered today: TAKE YO PANTIES OFF clothing; DANGEROUS NEGRO shirts; SLUTSSEEKER dating services; DAGO SWAGG clothing; DUMB BLONDE beer; TWATTY GIRL cartoons; BAKED BY A NEGRO bakery goods; BIG TITTY BLEND coffee; RETARDIPEDIA website; MIDGET-MAN condoms and inflatable sex dolls; and JIZZ underwear. These are not isolated instances. The government routinely registers pornographers' marks: TEENSDOPORN.COM, MILFSDOPORN.COM, THUG PORN, GHETTO BOOTY, and BOUND GANGBANGS are but a few.
Redskins spokesperson Maury Lane added: "In fact, since 1870, over three million trademarks have been registered, and we have found none that have ever been cancelled for being disparaging. We believe that the government's action tramples core principles of free speech and sets a dangerous precedent for other brands."
As the WaPo notes, this is the team's third attempt to appeal the ruling, and the ordered cancellation won't actually go into effect until the Redskins have exhausted all the legal options available to them.
Meanwhile, how many of you have already Googled the TEENSDOPORN.COM and MILFSDOPORN.COM website domains? At least a few dozen of you have. Hell, you probably didn't make it past the end of the block quote before you opened a new tab.
[h/t Uproxx]
[Image via screengrab]
— —
>> Follow Andrew Husband (@AndrewHusband) on Twitter
Have a tip we should know? tips@mediaite.com