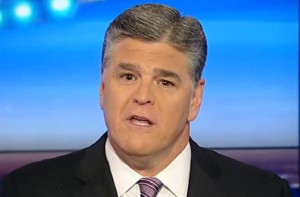 Washington Post is calling out one of Sean Hannity's pro-Trump narratives as a four-pinocchio whopper.
The Fox commentator's website aired a story in May about how Trump personally sent his private plane to go ferry 200 Gulf War Marines home, after they had been left stranded by a logistical error in 1991. The Hannity.com report is based on the second-hand recollections of a corporal and includes a photo of Marines standing in front of a plane labeled "Trump." And the Trump campaign reportedly confirmed the story,
Unfortunately, the plane featured in the image wasn't really Trump's, as the mogul was in such dire financial straits that he sold off the plane for cash to help repay some outstanding loans.
The Post's Glenn Kessler concludes:
Despite the rumors on base, it's clear that Trump had nothing to do with the dispatch of the jet to the troops stranded at Camp Lejeune. The aircraft that ferried the troops was part of the Trump Shuttle fleet, at a time when Trump barely had control over the airline and was frantically trying to negotiate deals with bankers to prevent the collapse of his business empire.

Trump Shuttle had a contract with the military, and this flight home was part of that contract. Simple as that.

Sean Hannity needs to prominently correct this article. The Trump campaign, meanwhile, earns Four Pinocchios for confirming a story that is easily debunked.
A correction seems unlikely, as Hannity has repeatedly defended his Trump boosterism by reminding us that he is not a journalist.
—
Sam Reisman (@thericeman) is a staff editor at Mediaite.
Have a tip we should know? tips@mediaite.com