Watch Donald Trump Take a Little Too Much Delight in (Sort of) Calling Ted Cruz 'a Pussy'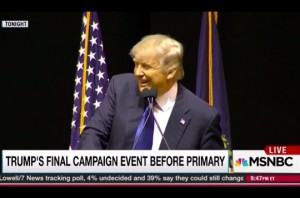 Don't be fooled by the rhetoric from the campaign trail that Donald J. Trump isn't a politician. The man is a master statesman, and is conquering exactly how to pretty say whatever he wants about his opponents and detractors in ways that completely absolve him of any wrongdoing on technicality (See the entry for "Not Calling Megyn Kelly a Bimbo").
And now, in New Hampshire just hours before the polls open up in the earliest towns of the Granite State, Donald Trump managed to pretty much call Texas Senator — and closest threat — Ted Cruz a pussy and get away with it.
The clip in question deals with Trump simply sharing a line of dialogue yelled out from a woman in the audience who identified the Texas Senator with the harsh language. But just look at how much Trump enjoys the moment, scheming away, knowing exactly what he's about to do and how to pull it off:
Trump "scolds" the woman in the audience with about as much as much rebuke as any good reality show character would in the heart of primetime sweeps week. Just look at the smile on the man's face when he hears her shout it out! It's sheer delight, one may argue the biggest smile we've seen from Trump on the entire campaign trail so far.
"OK, you're not allowed to say — and I would never expect to hear that from you again — she said — I never expect to hear that from you again! — she said that he's a pussy. That's terrible," Trump said to an absolutely house-shattering response from the crowd. The real estate mogul even had to stroll away from the podium for a quick breathe of air after pulling that one off.
Did Donald J. Trump, Presidential candidate, actually call Ted Cruz a pussy on the campaign trail in front of thousands of screaming fans hours before the New Hampshire Primary? No. But he went right up as close to the line as humanly possible, and knew exactly what he was nearly doing.
Watch the above must-see-to-be-believed video from MSNBC, and Rachel Maddow's response as well, which may very well sum up the feelings of many others who see what (nearly) happened on this fateful night in New Hampshire.
—
J.D. Durkin is the Senior Editor of Mediaite. You can follow him on Twitter @jiveDurkey.
This is an opinion piece. The views expressed in this article are those of just the author.