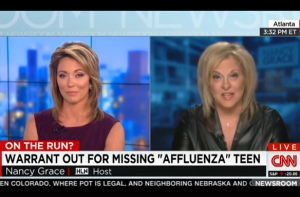 A little bit of backstory to get you caught up in the latest developments in the bizarre story of 18-year-old Ethan Couch, best known as the child with "affluenza": in 2013, Couch killed four people in a drunk driving accident and did not go to prison as a result of what his lawyers argued was the inability to judge right from wrong from his affluent upbringing. As part of his probation, the teen from Fort Worth, Texas was ordered to report regularly to a parole officer. Earlier this week, video emerged of what appears to be Couch playing beer pong with friends — a clear violation of his probation — and now he and his mother have gone missing. Got it?
On Thursday afternoon's CNN Newsroom, Brooke Baldwin discussed the latest development in the case with Nancy Grace. Immediately, Grace slammed what she called the "totally repulsive" situation of the young man being allowed to go free and then being a no-show. She firmly said, "He killed four people. We can all laugh and make light of his playing beer pong, but he killed four people. Including a mother and a daughter."
Grace continued, telling Baldwin, "Then this video shows up — he knows he's in trouble. And now he's gone, and his mother is gone too."
"When a thing like this happens," Grace said, "it's like a kick in the teeth… It's never showing any remorse. He never looked the families in the face."
Grace said that since Couch is now 18, his crimes of fleeing from his parole office will mean he is tried as an adult. When asked to identify the possible crimes that Couch's mother could be facing, Grace firmly noted, "aiding and abetting, harboring a fugitive, obstruction of justice — and that's just for starters."
Watch the above video from CNN.
[image via screengrab]
Have a tip we should know? tips@mediaite.com