Watch: Rick Perry Goes Off-The-Cuff During Unconventional Cornerstone Speech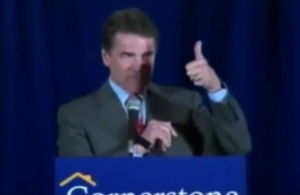 In recent weeks, it's become fairly evident that Rick Perry is a politician who likes to indulge in the occasional rhetorical flourish. While pundits have rated his previous debate performances as sub-par, when the Texas governor speaks in less formal environments, he appears to be on top of his game. (Whatever that game may be.) And he does not disappoint in the video below.
The excitement on Perry's face as he riffs on the New Hampshire state slogan, the tax code, and what it was like living on a farm is just so bizarre, and yet fun to watch. Also, I really don't know what that voice is he's doing at the 2:45 mark, but it's just too funny. Perry supporters will appreciate his sense of humor, while his detractors… well, I'll let YouTube commenter "grumpymorningboy" take it from here.
I'm not a psychologist, but I'm the child of someone who's bipolar — and I know bipolar people well — and this has the *exact* qualities of? mania. It's possible to experience manic episodes from a handful of medical (or chemical) conditions, but as someone who grew up around a LOT of mania, I'd bet money that Governor Perry is expressing it here. Look up 'mania' on wikipedia to learn more.
Yeah, that's pretty much the standard response on this video. Either you think Perry did a great job or he looked foolish up there. Actually, could someone check to make sure that this is the real Rick Perry and not Alec Baldwin in a really convincing Halloween costume?
Watch the video below:
h/t Time
Have a tip we should know? tips@mediaite.com
Josh Feldman - Senior Editor