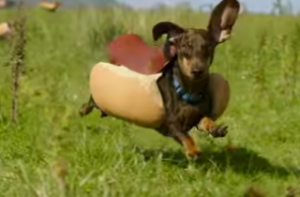 Remember this Super Bowl commercial from 2000 where a bunch of cowboys herd cats, wrangling them and wearing their scratches like badges of honor? It was for technology company EDS and it basically describes what I've done for you now by collecting all of the best (and worst!) commercials from past Big Games and putting them right here for your consumption.
Your loyal servants here at Mediaite have already brought you Amy Schumer and Seth Rogan's new ad, which we described as "quasi-political" and some people are none too thrilled with. There have been other contentious and dramatic ads in the past, too. Remember the drama over this major Nationwide-branded downer from last year?
There is another bummer of a commercial making the rounds for Super Bowl 50 this year, though it isn't quite as big of a punch to the gut as the one about kids dying in accidents. This one is from Colgate, a brand that took a major hit when news of microbeads in its products broke and scared moms and consumers around the country. The heartstring-yanking ad can be assumed to be their attempt at repositioning themselves as a compassionate, health-and-wellness-focused company while quietly putting the microbead fiasco in perspective with a global scope.
The NFL is also running its own ad with a message in a clear attempt to recuperate their image following a whole heap of bad press and, you know, player-adjacent women and children being beaten with a frequency that makes it hard to believe it's all coincidental. Regardless of if individual viewers interpret this as a desperate ploy to look like valiant defenders of victims of domestic violence or a great display of pure compassion, you'll be hearing a lot about this ad for the next few days.
Some commercials manage to convey a hard-hitting point while still being funny and advertising beer. Budweiser's #GiveADamn spot featuring Helen Mirren is a perfect Super Bowl commercial because it has an important message but doesn't bring the whole room down and leave you crying in your guacamole. (Nationwide, take notes. Take all the notes.)
While Budweiser is spending this year addressing serious topics using a frivolous set-up, we can't forget the time General Motors did the complete opposite and tried to talk about something frivolous (an obsession with quality) using a way-too-serious set-up (robot suicide?!). It was one of the biggest Super Bowl ad gaffes in recent memory. Watch the following video and try to imagine how an entire advertising team could have possibly ever green-lighted this:
Examples like GM, Nationwide, and Colgate have given us are precisely why Super Bowl commercials that are purely funny and focused on selling beer, cars, and the occasional domain name always do the best. Look at this hilarious spot with Christopher Walken for Kia:
Mirren and Walken aren't the first prolific actors to lend themselves out to the capitalistic overlords every February, either. Remember Bryan Cranston reprising his role as Walter White for Esurance last year?
Everyone is already talking about this Heinz commercial, which features adorable stampeding puppies (and is infinitely better than a dead child narrating all of the things he will never experience, Nationwide).
The spot that has been getting the most coverage thus far, however, appears to be this T-Mobile ad featuring Drake:
Finally, here is my personal favorite of this year's ads. I think Lil Wayne is an underrated comedic genius, as is Jeff Goldblum and  every other person who had a hand in this ad for up-and-coming website, apartments.com.
For more commercial hits and misses, check HERE tomorrow for a list of ads updating in real time.
[image via screengrab]
For more from Lindsey, follow her on Twitter.
Have a tip we should know? tips@mediaite.com