Watch This Scary Footage of a Pilot Nearly Decapitated by a Plane in a Runway Crash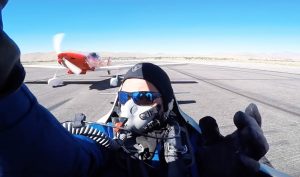 This is scary.
Stunt Pilot Thom Richard was seated in his plane National Championship Air Races in Reno on Sunday, when he aborted his takeoff due to engine trouble. As per procedure, he opened his canopy and signaled the starters to keep the race from beginning. But the other racers didn't know the race was being stopped, so they started off down the runway.
And in the video below, via Richard, you can see that one of the other aircraft came really…really close.
Richard described the harrowing incident on Youtube:
The impact was violent and loud. His left leading edge shaved off the top several inches from my vertical and skimmed the turtle-deck without touching until it impacted my right hand holding up the canopy, at well over sixty miles an hour. The left landing gear hit the top of the gull-wing center-section, blowing a hole in the top skin and impacted the rear face of the front spar so hard that it broke the landing gear clean off his airplane. The propeller sliced three evenly spaced gashes about mid span of my right wing, about a foot apart. The right landing gear sheared the wing off just short of the right wingtip. The impact spun me around nearly 180º, like a teacup ride at warp eight.
"I…consider myself a very lucky man," Richard added. "Another four feet to the left and I would have been minced meat."
[h/t The Daily Mail]
[image via screengrab]
–
Follow Joe DePaolo (@joe_depaolo) on Twitter
Have a tip we should know? tips@mediaite.com
Joe DePaolo - Senior Editor