WH Chief of Staff John Kelly: 'Believe It or Not, I Do Not Follow' Trump's Tweets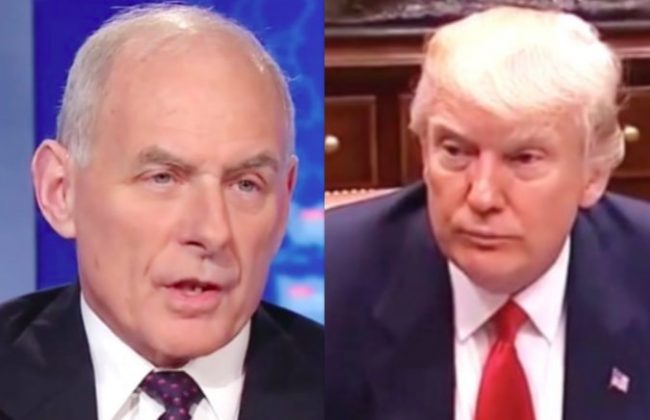 Last night, while in the midst of his lengthy Asia diplomatic trip, President Donald Trump took to Twitter to continue an insult war with North Korean dictator Kim Jong-un. After it was reported that the Kim Jong-un had called him "old and crazy," Trump mocked the reclusive leader by tweeting that he'd "NEVER call him short and fat." This came on the heels of a mini-tweetstorm in which he addressed the "haters and losers" criticizing him on Russia.
Hours after these alarming tweets, White House Chief of Staff John Kelly told reporters that he has told White House aides and staffers not to concern themselves with the president's social media comments. He further stated that he doesn't even pay attention to Trump's Twitter activity.
According to the Los Angeles Times, Kelly said the following to reporters following a Trump presser in Vietnam yesterday:
"Someone, I read the other day, said we all just react to the tweets," said Chief of Staff John F. Kelly, speaking with a group of reporters after a presidential news conference Sunday in Vietnam. "We don't. I don't. I don't allow the staff to. We know what we're doing."

Kelly said, "Believe it or not, I do not follow the tweets."

"I find out about them," he continued. "But for our purposes, my purpose, is we make sure the president is briefed up on what he's about to do."
The retired general went on to say that the tweets "are what they are" but that he doesn't take them into account while trying to shape policy as the staff develops "policy in the normal traditional way."
So, just to recap: Kelly tries to ignore what the president publicly says and when he finds out about the latest inflammatory tweet, he shrugs and says it is what it is.
[image via screengrab]
—
Follow Justin Baragona on Twitter: @justinbaragona
Have a tip we should know? tips@mediaite.com