WH Volunteer Involved in Prostitution Scandal Is Son of Megadonor, Now Works in Women's Issues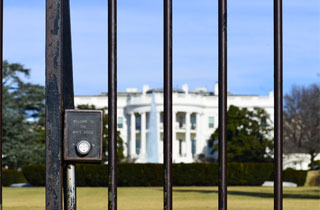 Buried in the Washington Post's latest expose on the Secret Service is this eyebrow-raising tidbit: not only did was the White House aware that the Secret Service had hired prostitutes during a 2012 trip to Colombia that ended in scandal, a member of the White House's advance team had also hired a prostitute — and the White House attempted to cover it up due to the nature of the election year.
The Post's investigation claims that Jonathan Dach, a 25-year-old volunteer who had traveled with the White House's advance team to Cartagena, had checked into his hotel room late at night with a woman whose identification, required upon check-in to the hotel, "matched that of a woman advertising herself on the Internet as a prostitute." (Dach has repeatedly denied the allegations.)
Technically, he could get away with nothing more than a slap on the wrist: prostitution is legal in Colombia and Dach technically hadn't broken any laws, nor was he an actual White House staffer getting paid actual money. As a volunteer, he only received a per diem and had little access to sensitive President-related information, a major issue in the Secret Service scandal. (In fact, the White House's general counsel at the time decided not to send a team to Cartagena to investigate Dach's claims "over something that's not a criminal act. . . . That would be insane.")
However, the Post hints that the massive cover up — including the White House allegedly pressuring the Inspector General's office to withhold evidence of Dach's involvement — was due to the fact that Dach's dad is super rich and well-connected, and that such a scandal during an election year could have caused some headaches for the Obama administration. Seriously, let's play "check off all the boxes that could possibly be thrown into a story like this":
Dach's father, Leslie Dach, is a prominent Democratic donor who gave $23,900 to the party in 2008 to help elect Obama. In his previous job as a top lobbyist for Wal-Mart, he partnered with the White House on high-profile projects, including Michelle Obama's "Let's Move!" campaign.

He, too, joined the Obama administration this year. In July, he was named a senior counselor with the Department of Health and Human Services, where part of his responsibilities include handling the next phase of the Affordable Care Act.
Oh, and here's one more box to check off: after the incident, Dach went on to work for the Administration as a policy adviser…in the Office on Global Women's Issues at the State Department.
[The Washington Post]
[Image via Shutterstock]
—
>> Follow Tina Nguyen (@Tina_Nguyen) on Twitter
Have a tip we should know? tips@mediaite.com