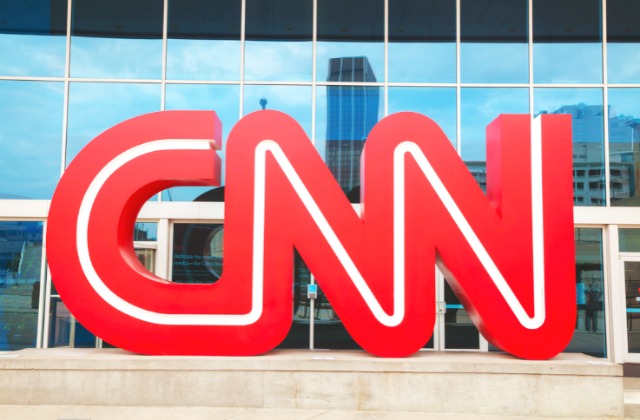 There has already been much discussion devoted to the rapid increase in ratings for MSNBC in the aftermath of Donald Trump's surprising electoral victory. During a time when cable news viewership typically experiences a lull following a year's worth of wall-to-wall election coverage, MSNBC has experienced a flock of new viewers, especially in primetime.
Meanwhile, as CNN has also seen a solid increase from this time last year, MSNBC is the real story. Yes, most of CNN programming has seen growth of 50% or more year-to-year while Fox News has enjoyed less growth than its competitors — and has even faced shrinkage in its audience in some hours — but MSNBC is rising to the pinnacle of the primetime cable news mountaintop, while CNN sits a distant third in the 8 PM to 11 PM hours.
So, why? With viewership rapidly growing in the "Age of Trump" and MSNBC grabbing a larger share of new viewers, why can't CNN seem to capture more than about a million or so people during their evening programming?
Personality and focus, pure and simple.
Let's take a quick look at MSNBC's primetime shows. The anchor of the lineup is Rachel Maddow. While she's long been the top-rated host at MSNBC, in the past few months, she's devoted her show's content to the Trump/Russia probes, doing deep-dives into the details of allegations facing the president's team while weaving in under-reported facts and little-known stories. Her A-block tends to run 20 minutes or more as she leads the audience down a trail of breadcrumbs. Regardless of where you stand on the issue she's discussing, it is either infuriating or fascinating television. Sometimes both but it's always smart and engaging.
Chris Hayes and Lawrence O'Donnell bookend Rachel, covering the 8 PM and 10 PM hours, respectively. Both unabashed liberals, they also run highly disparate programs. Hayes tends to go with a wonkish, fact-based, even-keeled approach. His interviews rarely get overly heated; he looks for common ground with guests and panelists and attempts to provide some time for issues dear to progressives' hearts. Lawrence, on the other hand, is more of a firebrand, providing red meat to liberals while delivering tough-worded monologues and taking direct aim at conservatives.
In the end, this three-hour block is the perfect contrast to Fox's personality-driven and ideologically conservative primetime lineup. Hayes presents a nice counterbalance to Tucker Carlson's anti-anti-Trump position; Maddow provides well-researched long-form pieces in comparison to The Five's roundtable discussions; Lawrence is essentially the liberal Sean Hannity.
And then you have CNN's Anderson Cooper and Don Lemon, basically doing the same thing for four straight hours. (Both generally do two-hour blocks, with Cooper running 8-10 and Lemon covering 10-midnight most nights.) Typically, we get the following: breaking news, interview, panel discussion. Rinse and repeat.
What don't we get? A clear editorial point of view. While some purists will say that is what journalists are trained to do, this is the rough and tumble world of cable news in the age of Trump. Cooper and Lemon are essentially given the roles of schoolroom monitor as they sort of try to keep the increasingly large panels on track. At the same time, the focus tends to be on getting partisans to bicker with each other.
While that's potentially good for occasional viral video moments, it also makes for a mediocre real-time viewing experience as one tries to sit through the commotion and discord. (Though, to be fair, it should be noted that while Cooper draws praise for acting "like a referee" with virtually zero editorial sensibility, Lemon often draws notice for his personal takes and interviews.) Creating, writing and producing television with a viewpoint is far more time consuming and difficult than just moderating panels and in this highly engaged political period, people feel it. Intellectual vigor and passion are prerequisites.
While Lemon and Cooper contend with the latest Jeffrey Lord/Symone Sanders hullabaloo, both Fox News and MSNBC are airing programs that are providing audiences with a clear direction and emphasis. And this is something CNN lacks right now in the evening. So, what's the solution? Perhaps replacing Cooper with Jake Tapper.
Tapper's 4 PM program The Lead, while bouncing between 2nd and 3rd in total audience and 1st and 2nd in the key demo in its timeslot, has outdrawn Cooper and Lemon on some nights in recent weeks. (Tapper also finished first in the 25-54 demographic in his timeslot for the month of May.) The 48-year-old, who also anchors Sunday's State of the Union, was given a limited primetime run in late-April, perhaps as a trial balloon.
What does Tapper have to offer? He may have the personality and editorial point of view to compete in primetime and perhaps slice off some of MSNBC's and Fox News' viewers (or bring in new ones altogether). Tapper has the confidence and ability to deliver a biting commentary, something he regularly does on The Lead. And his trademark snark has become so noteworthy that comedians are now bitching about it, wishing he'd leave the comedy to them.
CNN also has other personalities who would be more engaging than Cooper. Kate Bolduan is making a name for herself and is more than willing to mix it up with interview guests. Brooke Baldwin is the same way. Either of them could perhaps make the jump to primetime and replace either Erin Burnett (did you know she still has the 7 PM hour on CNN?), who makes almost no news, or Cooper.
Regardless, it is apparent CNN needs to make a change if they want to get out of third place. Viewers obviously aren't flocking to see four hours of Cooper/Lemon. A strong lead-in for Lemon could also fundamentally change his fortunes. Viewers tune in regularly when they feel a connection to a host and a program. They don't tune in for panel fights.
The thing is, whatever one thinks about devoting a cable news program to a host's editorial point of view, it definitely appears to be working for MSNBC right now. But you need to first find the right personality, have faith in that host and his/her particular vision, work through the initial kinks, and allow an audience to develop. Is CNN willing to go that route to compete? If they aren't they will likely continue to wallow in a distant third during arguably the most target rich period in cable news history.
[image via screengrab]
—
Follow Justin Baragona on Twitter: @justinbaragona
This is an opinion piece. The views expressed in this article are those of just the author.