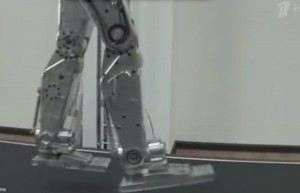 It's worrisome that Russia is unrolling the latest in its robotic weapons program — a literal Terminator — but not for the reasons you might expect.
"Iron Man doesn't stand a chance against DARPA's finest, but there is still reason to fear Russia's future robot mercenaries," Vocativ's Jennings Brown writes. "But what makes Moscow's investment into this field potentially alarming for the U.S. is that their weapons could soon end up in the hands of America's enemies."
"It's an entrant into the global marketplace and one that historically has been willing to sell to nations that U.S. would prefer doesn't get certain technologies," Peter W. Singer, an expert on emerging military technology, told Vocativ.
Video of "Iron Man" or "Ivan the Terminator" performing some decidedly non-lethal tasks, such as driving a car in a simulation with the aid of an operator via remote control, can be seen below.
Brown continues:
These particular technologies pose a unique threat because they complicate the laws of war—which is one of the main reasons that the United Nations is considering banning autonomous weapons. "There's a bigger worry with the legal and ethical challenges that merge when you have more and more autonomous systems, thinking how they might be used and abused," Singer said, explaining that, just as drones protect pilots, robot soldiers protect real soldiers from being captured, which allows military powers both to protect human soldiers and to use robots in operations that they can keep secret or later deny. "To give a parallel, Russia recently did a trade of POWs with Ukraine. Russia had been saying, 'We don't have troops in Ukraine.' But then they did a swap. That's one of the appeals of unmanned systems. It's why the U.S. uses drones over Pakistan."

Perhaps Russia is just readying for the machine-covered battlefield of tomorrow—or maybe Vladimir Putin wants to have the same technology-enabled deniability that the U.S. has had for more than a decade.
[image via screengrab]
Have a tip we should know? tips@mediaite.com