What Happens When You Leave A Megaphone On The Street With The Simple Instructions: 'Say Something Nice'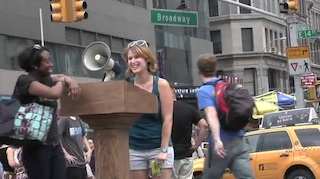 Even on days when it seems like the news coming out is all good, we can always assume that things are going to turn awful (or, at the very least, cynical) at a moment's notice. So it's good to take a break from all that and occasionally watch something that's just…nice. And there's no better way* to describe the new video from Improv Everywhere in which the merry pranksters set up a lectern in the middle of New York's Union Square, affixed a megaphone and a sign reading "Say something nice" to it, and recorded the results.
*And I mean "nice" in the truest form of the word. Not the bland "Have a nice summer" variety from boiler-plate yearbook comments. Actual nice. Good nice.
For those that don't know (and with the YouTube view counts these videos have, that shouldn't be that many of you), Improv Everywhere is a New York based group that performs "missions" that are alternately hilarious, adorable, or hilariously adorable. This latest video is a little different from their usual in that it features almost no input from the groups "agents."
From the Improv Everywhere site:
"It was exciting to stage a mission that we had so little control over. Unlike our more performance-based projects, the results of this one were entirely in the hands of random people who happened upon the lectern."
Some might think this would be a recipe for disaster but, thankfully, that wasn't the case:
"Not everyone followed directions. The guy above called out his friend (standing embarrassed next to him) for backing out on moving into his apartment. One woman used the megaphone as a way to promote an event she was working on. Someone else thought the megaphone was a good opportunity to give a lengthy monologue about Christianity. So while a few were opportunistic, we were pleased that the vast majority of the people who encountered the lectern got the spirit of what we were going for."
The whole thing is pretty wonderful. The only downpoint is that it makes you wish you were there to join in the spontaneous kindness.
Of course, I may not have a sidewalk lectern, but I do have a blog to write on, so here's my nice comment:
To the lady talking about turning 50, are you seriously 50? You don't look it at all! Congrats!
Enjoy the video below:
Have a tip we should know? tips@mediaite.com