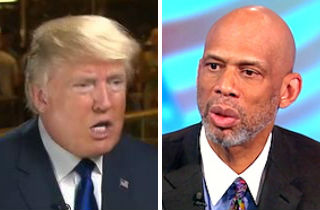 Former professional basketball player turned political commentator Kareem Abdul-Jabbar wrote an op-ed for the Washington Post on Wednesday. In it, he compared the political campaigns of Donald Trump and Bernie Sanders, who — if you didn't already know — are vying for the GOP and Democratic Party tickets respectively. Sanders hasn't said anything, but Trump really didn't like Abdul-Jabbar's article and sent him a few notes. We can learn quite a few things about the GOP candidate from said notes.
In the op-ed, Abdul-Jabbar writes that Trump treats the press like crap, whereas Sanders does not. In fact, he goes so far as to argue that Trump's "attempting to bully the press to silence criticism of him is anti-American."
The article itself isn't all that noteworthy, except for the fact that it was written by Abdul-Jabbar. Yet Trump still took notice. He supposedly wrote the ex-NBA star a few notes and sent them along via private, non-social media means. (A move that is understandably out of character for the New York business mogul.)
"Trump's response to my piece is the best, though inelegant, support for my claims," Abdul-Jabbar writes in his follow-up WaPo blog post, before provided a full scan of Trump's response: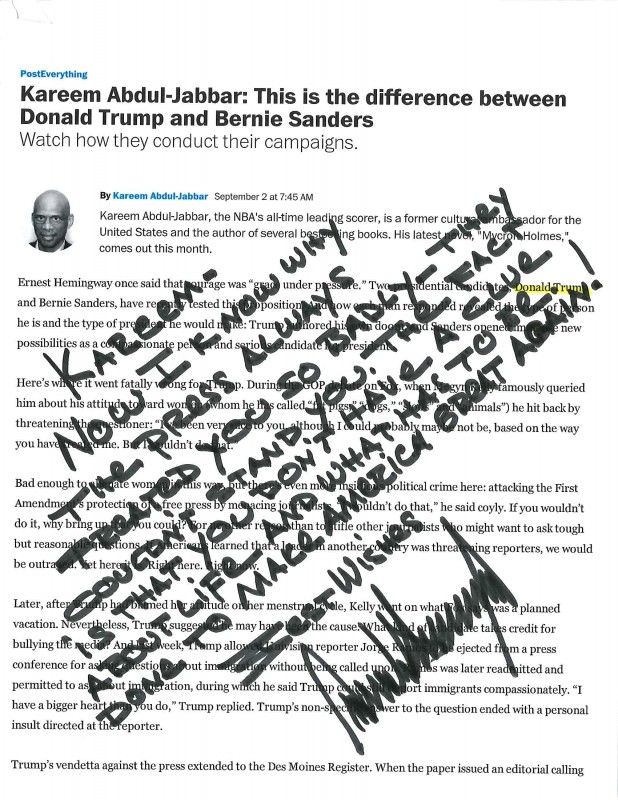 The full text of the handwritten note reads:
Dear Kareem,

Now I know why the press always treated you so badly — they couldn't stand you. The fact is that you don't have a clue about life and what has to be done to make America great again!

Best wishes,

Donald Trump
On the one hand, we can kick the dead horse of "Trump doesn't like journalists" and leave it at that. However, there are few things we can learn about the Donald from the above scan:
Even though Trump obviously accessed Adbul-Jabbar's article online, he decided to print it out anyways. Maybe this was for the purpose of the handwritten note, but in my heart of hearts, I suspect that this is how the Donald must read all things.
Trump highlighted his own name, in the top line of the first paragraph, second sentence.
Trump likes thick, black sharpies.
Trump writes in ALL CAPS.
Trump is one hashtag away from staying on message with his blatant "Make America Great Again" motto drop at the end.
Class dismissed. Any questions?
[h/t the Washington Post]
[Image via screengrabs]
— —
>> Follow Andrew Husband (@AndrewHusband) on Twitter
Have a tip we should know? tips@mediaite.com