When Kelly Preston's Son Died, Trump Wrote a Blog Post About His Failed Attempt to Sleep With Her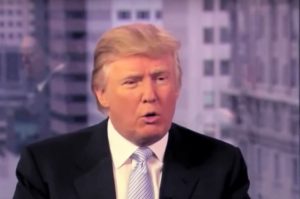 In 2009, John Travolta and wife Kelly Preston lost their teenaged son, Jett Travolta. It was a difficult time for the family and Travolta later credited Scientology with getting him through it.
Donald Trump's reaction to the horrific incident, however, was not grounded in faith, unless if you count faith in himself. He posted a blog entry to the website for Trump University that still exists on Internet archives and in that post, he somehow ended up talking about his "outstanding" track record when it comes to picking up beautiful women. How did he go from writing about the death of a child to sleeping with women? Read it yourself:
I have always respected people who were loyal and faithful–which brings to mind Kelly Preston. A long time ago, before I was married, I met Kelly Preston at a club and worked like hell to try and pick her up. She was beautiful, personable, and definitely had allure. At the time I had no idea she was married to John Travolta.

In any event, my track record on this subject has always been outstanding, but Kelly wouldn't give me the time of day. She was very nice, very elegant, but I didn't have a chance with her, and that was that.

When I later found out she was married to John, I liked and respected her even more. Some people have values that matter to them, and she is one of them. Her loyalty was unwavering and I have always remembered that about her.

Being true to someone is very close to being true to yourself. That's a valuable attribute in today's world. I'm sure she was a wonderful mother to Jett and my thoughts are with her and her family after their terrible loss.
The wording is reminiscent of the way he was revealed to have spoken about married television host Nancy O'Dell in leaked audio of a 2005 conversation with Billy Bush. He indicated he "moved on her like a bitch" and "did try to fuck" her in spite of knowing she was married. At least in this version, Trump claimed not to realize Preston was married.
In both cases, he was rebuffed, which he owned up to, though his characterization of Preston as loyal is certainly a far cry from his post-rejection jab at O'Dell's "big phony tits."
The blog post certainly stands out among standard condolences.
[image via screengrab]
Have a tip we should know? tips@mediaite.com