Where to Watch Tuesday's Primary Results by Network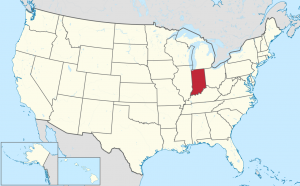 After a five-state drubbing last week that saw Republican frontrunner Donald Trump sweep all of his state primaries, the race turns towards Indiana Tuesday for its state-wide primary. While Trump looks to pad his lead with a big win Tuesday en route to the necessary 1,237 delegates, the Democratic race is also increasingly becoming a one-sided affair.
Former Secretary of State Hillary Clinton won four out of five states last week, and is taking a full head of steam of momentum into the Hoosier state Tuesday. Meanwhile, Vermont Senator Bernie Sanders is busy collecting delegates in any state he can, and announced his intentions this week to force a contested convention of his own in Philadelphia this summer.
On the GOP side, Texas Senator Ted Cruz and Ohio Governor John Kasich continue to battle it out beneath Trump in the rankings, though each campaign has committed to staying in the race for the foreseeable future. Trump's 996 delegates tops Cruz's 565, while Kasich currently has 153 to his name.
All of the primary cable news networks will be broadcasting analysis, breakdown, and results through the night as polls close in all five states.
—
FOX News Channel (FNC) will provide special live coverage of the Indiana primary on Tuesday, May 3rd. Kicking off the night, FNC's Bret Baier and Megyn Kelly will co-anchor America's Election Headquarters from 6-8PM/ET and break down the results during those hours. At 8PM/ET, The O'Reilly Factor will air followed by The Kelly File at 9PM/ET. FNC will present a special two hour live edition of Hannity at 10PM/ET, and then a special live edition of The Five at midnight. Live coverage will then extend from 1AM-4AM/ET led by co-anchors Gregg Jarrett and Patti Ann Browne. Also joining the evening's coverage will be Bill Hemmer on the "Bill-board" and Martha MacCallum, who will analyze the exit poll data. Additionally, the Campaign Cowboys, including FOX News Sunday's Chris Wallace, FNC contributors Karl Rove and Joe Trippi, will provide analysis throughout the night.
FOX Business Network (FBN) will present live coverage and analysis of the Democratic and Republican Indiana primary results on Tuesday, May 3. Starting at 6PM/ET, FBN's Neil Cavuto will kick off the special coverage with Cavuto: Coast to Coast followed by Lou Dobbs Tonight at 7PM/ET, and then another special presentation of Cavuto: Coast to Coast at 8PM/ET.
—
CNN will broadcast American's Choice 2016: Super Tuesday beginning at 8 p.m. ET with continuing coverage in the evening until 2 a.m. ET.
MSNBC: Coverage kicks off with an afternoon edition of "Morning Joe" at 3pm followed by "MTP Daily" at 5pm, "Place for Politics" hosted by Steve Kornacki at 6pm, "Hardball" at 7pm and then primetime coverage with Rachel Maddow and Brian Williams begins at 8pm.
— —
Watch live results below (when available), via ABC News:

ABC Breaking News | Latest News Videos
Watch live results below (when available), via NBC News:
Have a tip we should know? tips@mediaite.com