Where to Watch Tuesday's West Virginia Primary Results by Network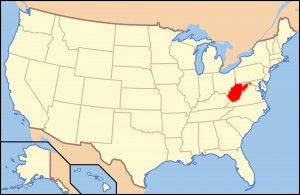 Well, it has now been one week since the decisive Indiana primary all but handed the Republican nomination to longtime frontrunner Donald Trump. Following another crushing loss last week, both Texas Senator Ted Cruz and Ohio Governor John Kasich suspended their campaigns, leaving Trump to shift focus onto the general election and the months of campaigning ahead.
As for the Democrats, the race is still alive… barely. Former Secretary of State Hillary Clinton maintains a sizable lead in the delegate count over Vermont Senator Bernie Sanders, who is just about mathematically eliminated from winning the nomination on his own. However, the self-described Democratic Socialist pol has vowed to stay in the fight, indicating that he can win states like Kentucky and Oregon in the future. He also believes that he can fare well in West Virginia Tuesday, where he holds a 6 point lead over Clinton.
All of the main cable news networks will be carrying primary results live as polls close in West Virginia at 7:30 p.m. ET.
FOX News Channel (FNC) will provide special live programming to cover the Democratic and Republican primaries in West Virginia and the Republican primary in Nebraska on Tuesday, May 10th. FNC will present On The Record with Greta Van Susteren at 7PM/ET, The O'Reilly Factor at 8PM/ET, The Kelly File at 9PM/ET and Hannity at 10PM/ET with special live editions of Special Report with Bret Baier at 11PM/ET, The Five at midnight along with an overnight edition of America's Election Headquarters co-hosted by Leland Vittert and Heather Childers. Additionally, FNC's Bill Hemmer and Martha MacCallum will cover the exit poll data and results in the key counties and states.
FOX Business Network (FBN) will present live coverage and analysis of Republican Nebraska primary and Republican and Democratic West Virginia primary results on Tuesday, May 10. Starting at 7PM/ET, FBN's Lou Dobbs will kick off the special coverage with Lou Dobbs Tonight. FBN's Neil Cavuto will take over for the rest of the night at 8PM/ET with Cavuto: Coast to Coast.
—
CNN will broadcast American's Choice 2016: Super Tuesday beginning at 8 p.m. ET with continuing coverage in the evening until 2 a.m. ET.
MSNBC: Coverage kicks off with an afternoon edition of "Morning Joe" at 3pm followed by "MTP Daily" at 5pm, "Place for Politics" hosted by Steve Kornacki at 6pm, "Hardball" at 7pm and then primetime coverage with Rachel Maddow and Brian Williams begins at 8pm.
— —
Watch live results below (when available), via ABC News:

ABC Breaking News | Latest News Videos
Watch live results below (when available), via NBC News:
Have a tip we should know? tips@mediaite.com