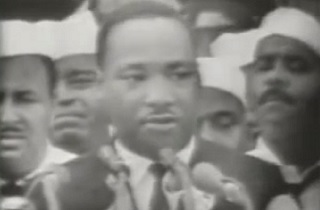 This week marks the celebration of Martin Luther King, Jr. Day, the 29th time the slain civil rights hero's official federal holiday has been observed. The recognition of Dr. King's holiday was once politically controversial, but in recent years, both parties have embraced, to varying degrees, King's legacy. Eric Ostermeier of the University of Minnesota's Smart Politics blog tried to measure that embrace by tracking the number of press releases put out by members of Congress commemorating the holiday.
It's a somewhat blunt measurement, to be sure, but for whatever they're worth, the results were lopsided, to say the least. Democrats issued MLK Day press releases at nearly four times the rate of Republicans, and even if you factor out black Democrats, the ratio was nearly 3 to 1. From Smart Politics:
A total of 35 of 200 Democrats issued press releases about Dr. King, or 21.2 percent, compared to just 13 of 233 Republicans, or 5.9 percent.

…Even after removing black U.S. Representatives from the analysis, non-black Democrats still issued statements about Martin Luther King at nearly three times the rate of Republicans, with 23 of 134 doing so over the weekend, or 17.2 percent.

…The average Democratic press release on MLK was nearly twice as long, averaging 201 words, as those written by Republicans, averaging just 104 words.
The longest such press release by a Republican, from Colorado's Mike Coffman, clocked in at 196 words. The shortest was 61 words, from Rep. Mike D. Rogers (R-AL). The shortest, overall, came from Rep. Lois Frankel (D-FL), at 47 words.
When the law creating the King holiday was passed in 1983, 93% of House Democrats voted for the bill, versus 53% of House Republicans, many of whom are still in Congress. Additionally, one of the 17 Democrats who voted against the holiday is now a Republican, Sen. Richard Shelby (R-AL). Shelby's office did not put out a press release for this year's King holiday. Neither did Sen. John McCain (R-AZ), who also voted against the King federal holiday, and fought its recognition in his state.
Have a tip we should know? tips@mediaite.com