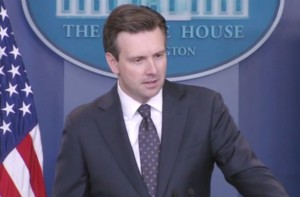 In the midst of this agonizing election season, a new report about money the U.S. gave to Iran is causing a firestorm among Republicans today.
According to The Wall Street Journal, those four Americans who were detained in Tehran were released earlier this year around the same time as the White House arranged a $400 million payment to Iran.
The payment was apparently made as part of a massive settlement between the U.S. and Iran that President Obama alluded to at the time.
And as the State Department now says, the two decisions were not linked:
"As we've made clear, the negotiations over the settlement of an outstanding claim…were completely separate from the discussions about returning our American citizens home," State Department spokesman John Kirby said. "Not only were the two negotiations separate, they were conducted by different teams on each side, including, in the case of The Hague claims, by technical experts involved in these negotiations for many years."
Republicans, however, are absolutely furious and decrying it as a ransom payment:
Obama administration sent plan load of cash to #Iran as ransom as part of deal on hostages. Just unreal. https://t.co/UHfdK4BEyN

— Marco Rubio (@marcorubio) August 3, 2016
Since Obama paid ransom to #Iran at least two more Americans taken hostage.

— Marco Rubio (@marcorubio) August 3, 2016
Reported that @POTUS paid Iran $400M in pallets of cash as US hostages released. Still having to hide facts of deal. https://t.co/51fHSmJNHg

— Mike Pompeo (@RepMikePompeo) August 3, 2016
Since the cash shipment, the intelligence arm of the Revolutionary Guard has arrested two more Iranian-Americans. https://t.co/vQ4J0YaFrL

— Rep. Leonard Lance (@RepLanceNJ7) August 3, 2016
Obama's secret $400m to #Iran amounts to ransom, puts Americans at risk. Disgraceful leadership. We deserve better. https://t.co/OLsH16pKOj

— Rep. Vicky Hartzler (@RepHartzler) August 3, 2016
Your tax dollars at work: Obama sends $400 million in cash to the leading state sponsor of terrorism. #Iran https://t.co/mymfSvMQvS

— Rep. Doug Lamborn (@RepDLamborn) August 3, 2016
Cash for hostages? A violation of all agreements? An example of how the Iran deal increases risk and weakens America. #IranDeal #Iran

— Mark Meadows (@RepMarkMeadows) August 3, 2016
It seems the Obama Administration again capitulated to #Iran and went to great lengths to try and cover it up.

— Rep. Bradley Byrne (@RepByrne) August 3, 2016
Paying ransom to Iran is foolish & illegal & it started w/Hillary's secret Iran negotiations. It's time for change! https://t.co/61ZiYLIMI6

— Brian Babin (@RepBrianBabin) August 3, 2016
$400 million to Iran? What's the big deal? It's not like we sent them $150 billion or something… Oh wait, oops never mind…

— Donald Trump Jr. (@DonaldJTrumpJr) August 3, 2016
$400M to iran? This cmty organizer says Trump unprepared? 7yrs for O & still doesn't know what the hell he's doing! pic.twitter.com/o7LZeiTvmu

— Jeanine Pirro (@JudgeJeanine) August 3, 2016
RT if you agree → The public deserves an explanation of the lengths the admin went to in order to accommodate #Iran. https://t.co/Eiuh6naRnQ

— Paul Ryan (@SpeakerRyan) August 3, 2016
Obama Admin secretly gave the Iranians $400M at the same time 4 Americans were released from their custody https://t.co/2BVbG56bCP

— Reince Priebus (@Reince) August 3, 2016
White House Press Secretary Josh Earnest insisted today this was not a ransom payment, saying they're "resolving a long-standing claim" and "the United States does not have a banking relationship with Iran":
.@PressSec on settlement w Iran that @POTUS, @JohnKerry, & others described at length when we announced it in Jan: https://t.co/XyDP9AXcoG

— Ned Price (@Price44) August 3, 2016
Though as multiple people have noted, there are still Americans being held in Iran:
Iranian-Americans currently being held by Iran regime: Siamak Namazi, Baqer Namazi, & Reza "Robin" Shahini.

— Jake Tapper (@jaketapper) August 3, 2016
[image via screengrab]
— —
Follow Josh Feldman on Twitter: @feldmaniac
Have a tip we should know? tips@mediaite.com
Josh Feldman - Senior Editor