White House Denies Redstate Allegation That They 'Deep-Sixed' Abortion Stats Report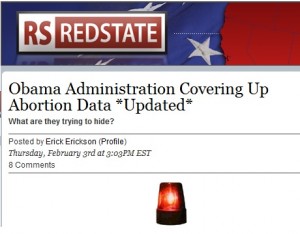 Redstate chief and CNN contributor Erick Erickson has posted an article on his site that claims that an annual CDC report on nationwide abortion statistics has been "deep-sixed," which Erickson says raises the question "what is the Obama administration trying to hide?"
A more thorough reading of his "report" reveals that, while they say the CDC told Redstate that there are "no plans" to publish the report "anytime soon," nothing in their reporting establishes a link to the Obama administration, so I checked with the White House.
Erickson makes the claim that the Obama administration quashed the annual report, not once, but twice:
RedState has uncovered evidence – confirmed by the CDC's own press office – that the Obama administration is deliberately playing "hide the ball" on nationwide abortion statistics. For apparently the first time in 40 years, the CDC's annual "Abortion Surveillance Report" was not published, and there are "no plans" for the data to be produced at this time…

…the Obama Administration has apparently ordered that the only Federal government report on abortion statistics – again, a report that has run continuously for 40 years – be deep-sixed. The immediate question this raises is: what is the Obama administration trying to hide?
Erickson also gets a GOP Congresswoman to parrot the accusation:
UPDATE: Congresswoman Vicky Hartzler (MO-4) is the first member of Congress to provide RedState with a statement:

"This is the epitome of hypocrisy being exhibited by the Obama Administration as it hides facts and figures on abortion while claiming to want more transparency in government. This is a pattern that has become all too common with the Obama Administration, ranging from its distortion of the facts on taxpayer funding of abortions under ObamaCare to manipulated information to support repeal of the military's Don't Ask, Don't Tell policy. It is time for the Obama White House to put a stop to its disregard for openness in government and to end its practice of distorting data for blatantly political purposes."
So, what did the Centers for Disease Control's press office tell Erickson that "confirms" that the Obama administration "deep-sixed" the report?
Last week, RedState began investigating by calling those in DC who might have some answers. After several attempts, we finally received confirmation from Rhonda Smith at the CDC's press office in Atlanta that the report has been buried indefinitely; the CDC "will not have stats available at any time in the near future" and there "are no plans for them to come out any time soon." This call took place on Jan. 27th, and we asked Ms. Smith for a reason that the report wouldn't be issued anymore. She promised to check around and find out if there was any reason given and get back to us – as of the date of this posting, we have received no further communication from her office.
For those of you keeping score at home, that'd be a bit fat zero.
Even though Erickson  produces no evidence of any kind to support his claim, I checked with the White House anyway. An administration official told me that "this report is slated to run later this month, and always has been."
So, not only did the White House not order this report to be "deep-sixed," the report is actually forthcoming. It looks like Redstate's reporting is at deep sixes and sevens with reality.
Have a tip we should know? tips@mediaite.com