White House Explains Noodle-Armed Raul Castro Photo Op: Obama Wanted to Deny 'Iconic' Image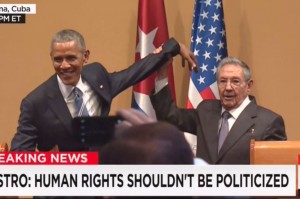 One of many subplots to emerge from President Obama's historic trip to the island of Cuba last week was an awkward photo in which Cuban President Raul Castro tried to raise the President's arm, only to wind up holding what looked more like a prop from a zombie flick attached to Obama's shoulder. At Monday's White House Daily Briefing, Fox News Radio correspondent Jon Decker asked Press Secretary Josh Earnest to explain the awkward moment.
Earnest revealed that the President's seeming reluctance was, indeed, deliberate, and explained why:
Earnest: I do think that president Castro had in mind rather iconic photo with President Obama and his arms raised together. I think President Obama believed that would imply a whole lot more agreement on some priorities than actually exists. So the President was of course entirely comfortable appearing onstage with president Castro. they had important conversations behind the scenes, but I also think their differences of opinion on some really important priorities. It was also pretty evident from that conference. and that's why the president resisted the idea of a photograph like the one that president castro apparently envisioned.

Jon Decker: It was pretty quick thinking on the president's part. Did he anticipate that the Cuban president Raul Castro might something like that at the conclusion of the press conference?

Earnest: I don't think that president Castro has a standard protocol for the end of news conferences because I don't think they have news conferences as part of their standard protocol. So I don't know that anybody was expecting him to do that, but I think the President did observe that for an 84 year-old, president Castro still has some pretty quick reflexes.
Earlier in the briefing, Earnest also responded to former President Fidel Castro's letter to the President, calling it a sign of the visit's "impact."
This is an opinion piece. The views expressed in this article are those of just the author.