White House Gets West Wing Stars to Help Promote Virtual 'Big Block of Cheese Day'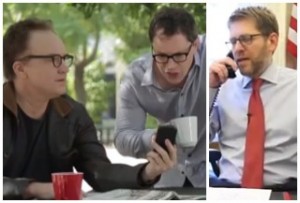 The White House is organizing "Big Block of Cheese Day."
Yes. Really.
Well, sort of.
The White House announced on Friday that next week, they would be holding the first annual digital "Big Block of Cheese Day." If you've ever watched The West Wing, you're aware of what this is, but for those of you who don't know, here's a primer:
Yes, no one really knew or cared about this thing until the popular White House NBC show brought it into the popular zeitgeist, and so two of the show's stars, Bradley Whitford and Josh Malina, are helping the White House promote the
Both actors appear in a video with an overly enthusiastic Jay Carney to promote next week's event which, by the way, doesn't actually involve a real big block of cheese. The intent behind the original "Big Block of Cheese Day" was to make the White House open to the public and eat cheese, Gromit, cheese!
So now the White House is having a virtual open-doors event where White House officials will take to social media on January 29th, the day after the State of the Union, to field questions people have on Twitter, Facebook, and all the rest of it.
This isn't the first time there's been a mini-West Wing reunion to promote some sort of cause, two years ago the main cast appeared in a campaign ad for a relative of one of the castmembers.
You can watch the video below:
[photo via screengrab]
— —
Follow Josh Feldman on Twitter: @feldmaniac
Have a tip we should know? tips@mediaite.com
Josh Feldman - Senior Editor