W.H. Raises Petition Signature Threshold To 100k, Making It That Much Harder To Deport Piers Or Build A Death Star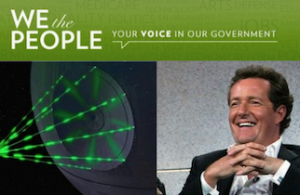 As of today, petitions submitted on the White House's "We The People" website will need 100,000 signatures to warrant an official response.
When the program launched in September of 2011, petitions only required 5,000 signatures in 30 days to receive an official response from the White House. Within weeks, they increased the threshold to 25,000 signatures to help address the massive demand, calling it a "good problem to have."
Over the past year, the petition program has only grown in popularity. Petitions submitted from several states asking to secede from the nation after President Obama won re-election garnered enough signatures to warrant an official response. Just this week, Director of the Office of Public Engagement Jon Carson responded, "Our states remain united."
The now infamous petition to deport Piers Morgan created by his new adversary Alex Jones topped 68,000 signatures just before Christmas.
And, of course, even more ridiculous petitions such as the one urging the United States to build a Death Star have reached the 25,000 mark, eliciting hilariously deadpan responses like the one issued last week stating "the Administration does not support blowing up planets."
After all of this, it is not surprising that the White House has decided to once again increase the signature threshold, nothing that as of this week there have been over 9.1 million signatures and over 5.4 million users, with exponential growth over the last few months.
Though it only applies to new petitions created from here forward, it appears that the change could have a significant impact on how many petitions the White House will be forced to answer.
As of now, the only petition on the website with more than 100,000 signatures is the one to "Legally recognize the Westboro Baptist Church as a hate group" (320,074). Some of the more far-fetched proposals that currently stand above 25,000, but under 100,000, include petitions to "recount the election" (68,397), "outlaw offending prophets of major religions (37,981) and "not allow the FDA to regulate premium cigars" (35,955).
[Image via WhiteHouse.gov]
—
>> Follow Matt Wilstein (@TheMattWilstein) on Twitter
Have a tip we should know? tips@mediaite.com