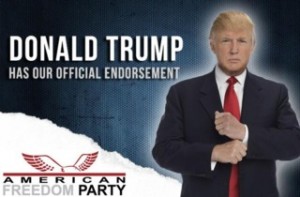 Remember when Donald Trump was endorsed by the National Black Republican Association? Well, this is the exact opposite of that! Even after Trump recently insisted he wouldn't accept money from white nationalist organizations, the Super Pac known as American National is continuing to roll out robocalls in support of him.
Voters in Vermont and Minnesota are the lucky ones this time around, though Iowans were the target a few weeks ago. Talking Points Memo got a recording of the call and created a transcript. Here it is:
The American National Super PAC makes this call to support Donald Trump. I am William Johnson, a farmer and white nationalist.

The white race is dying out in America and Europe because we are afraid to be called "racist." This is our mindset: It's okay that our government destroys our children's future, but don't call me racist. I am afraid to be called racist. It's okay to give away our country through immigration, but don't call me racist. It's okay that few schools anymore have beautiful white children as the majority, but don't call me racist. Gradual genocide against the white race is okay, but don't call me racist. I am afraid to be called racist. Donald Trump is not a racist, but Donald Trump is not afraid.

Don't vote for a Cuban. Vote for Donald Trump. (213) 718-3908. This call is not authorized by Donald Trump.
Johnson is also chairman of the American Freedom Party.
Although it takes care to point out that it isn't authorized by the candidate, the call sings his praises. They appear to selectively choose which of his campaign statements to focus on. Then again, they must also know their target demographic, because 16% of Trump supporters in South Carolina admitted to believing that white people are of a "superior race" in a recent poll. 14% were not sure, so maybe the robocall was for their  counterparts in Minnesota and Vermont.
[image via screengrab]
For more from Lindsey, follow her on Twitter.
Have a tip we should know? tips@mediaite.com