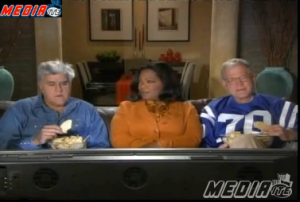 How, exactly, does this happen: A 15-second Superbowl ad featuring David Letterman, Oprah Winfrey and…Jay Leno? After taking shots at Leno for basically the whole month of January — mean ones — and getting a few below-the-belt zingers right back, Letterman is the last person whom I would have expected to see sharing screen time with his former arch-rival. (If you don't know what I'm talking about, get caught up here.) Yet there they were — in a commercial for the Late Show with David Letterman — which makes sense only insofar as it makes Letterman look like he's hoping for a little of Leno's audience juice, or susceptible to arm-twisting from Oprah, or just doesn't really care as much as we thought he did. Either way, it's as disquieting a team of rivals as any stalwart late-night watcher could see. We know that Leno needs the PR help to get back into the critical good graces of the nation after the whole Conan debacle (and his interview with Oprah frankly didn't help), but is Letterman really that nervous about his ratings that he has to participate in a stunt like this? What does he get from it, other than a shot of holy-crap-did-you-see-that publicity? The imprimatur of Jay Leno, so maybe some errant viewers won't peel off and head to NBC when Leno retakes his old chair? I have no answers for you. I remain confused. But yeah, that looks like one hell of a lame Superbowl party.
Related: Somewhere, Conan O'Brien is hurling a plate of nachos at the screen.
Update: Watch the ad below, and then read on to hear how it came together.


Update: Over at the NYT, Bill Carter has the story from the Letterman – Leno camps, who both say it was Letterman's idea and that he just thought it would be funny, playing off his similar spot with Oprah from 2007. Leno flew in from LA on the NBC corporate jet (Green is Universal!) and the two "greeted each other warmly." Then they shot the spot.
"This wasn't done to help Dave or to help Jay," [Late Show with David Letterman producer Rob] Burnett said, "though I think it does help both of them. It was just done because Dave thought it would be funny and would entertain people. Nothing went beyond that." Uh-huh. That's showbiz, ladies and germs! Don't touch that dial.
Update to the update: Apparently Dave wanted to bring Conan O'Brien in on the action but that didn't work out. According to Josef Adalian at The Wrap, Burnett contacted O'Brien's producer Jeff Ross about doing it, "[b]ut the call came just as O'Brien and Ross were finishing up production on The Tonight Show — and nothing ever came of the idea." (At Variety, Michael Schneider got something more concrete from Burnett, who apparently said that Ross declined because of timing.) Color me just a smidge skeptical, since we know they shot it on Feb. 2nd and we know that Conan was free (as a bird) on that date. If the draw of a Superbowl spot was enough to make Leno and Letterman put grudges aside, then would it not be for Conan — who didn't have to cancel a show to do it? I am very interested in the real backstory on this. Either way, Jay Leno keeps emerging as the winner here &mdah; Oprah rehab interview, White House Correspondents Dinner announcement, now this. Oh and the Tonight Show, now and apparently throughout newly-revised history. The next big hurdle: Post-Olympics ratings. Letterman better hope that he didn't just run an ad for Jay Leno last night.
How the Letterman-Oprah-Leno Super Bowl Ad Came Together [NYT]
Exclusive: Dave Wanted Conan for Jay-Oprah Super Bowl Spot [The Wrap]
***Here's the 2007 Dave-Oprah spot. I grudgingly concede that it is funnier with this backstory, but even so. The Oprah-Letterman feud was silly; the Leno-Letterman feud goes way deeper, and over the past month it has seemed to be based on principle. Oh well.
Related:
Jay Leno's Low Blow: Hits At Letterman's Wife [Mediaite]
Dissecting the O-Jay interview, lie by lie [TV Barn]
Conan's Leaving, Jay's Staying — And NBC Is Paying [Mediaite]
Don't Blame Me! Leno Addresses Late-Night Mess Head On [Mediaite]
Have a tip we should know? tips@mediaite.com