Who Is NBC's Billy Bush, Besides the Guy Who Talked to Trump About Grabbing Women 'By the P*ssy'?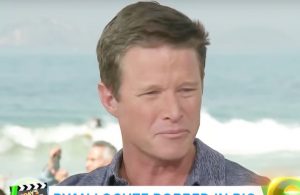 By now, you know that Donald Trump and Billy Bush had a very, very crude conversation about women in 2005 that was picked up on a hot mic and has now wound its way through the Internet and cable news for the past few hours.
So, who is Billy Bush?
We've already gone over how he works for NBC and has only been on the Today Show since this summer, but what was he doing before that?
First things first: He is a Bush in the dynastic, political sense. His father, Jonathan Bush, is the brother of George H. W. Bush, who was the 41st President of the United States and is the father of George W. Bush and Jeb Bush.
Instead of pursuing politics like everyone else in the family, Bush went into celebrity news. He hosts radio's The Billy Bush Show and is most well-known for his role as an anchor and correspondent for Access Hollywood. 
Although much is being said about his future with NBC now that the lewd footage has leaked, his past with the network is extensive. As early as 2003, he was working with NBC on a primetime version of Let's Make a Deal and was a correspondent for the New York affiliate, WNBC-TV. He worked with NBC on Olympics coverage in 2004.
He has three daughters, which has been brought up repeatedly during conversations about his involvement in the sexist conversation with Trump that has set the political world on fire today.
Prior to today, his biggest headline-grabbing moment recently came when he fought with Al Roker after defending Ryan Lochte's fabricated tale of being robbed in Rio de Janeiro during the Olympics this summer.
UPDATE — 7:26 p.m. EST:
Bush has issued a statement about his involvement in the Trump conversation.
[image via screengrab]
Have a tip we should know? tips@mediaite.com