Who Knew? Executives At Watchdog Entities Media Matters And MRC Make A Lot Of Money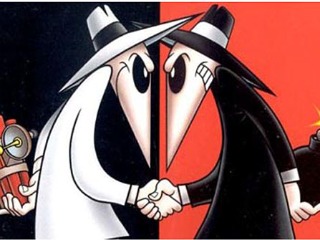 Hey! So, you know how the job market is looking pretty awful and everyone is lamenting the death of America and liberty and justice and Harry Potter and everything? It's depressing, right? Well, here, additional fodder to help you spiral ever downward in a rapid descent towards deep clinical depression: Monitoring the media, evidently, pays HUGE bucks.
The Poynter Institute's ever-valuable Romenesko blog offers a glimpse into the accounting ledgers of organizations created to make sure the reports presented in the media are balanced (in their favor). If you're a regular Mediaite reader, you're likely at least somewhat familiar with the Media Research Center and its liberal cousin, Media Matters for America.
Here's what some of their respective employees make annually. (Update: For more on where this information comes from, exactly, take a look at Jim Romenesko's post) :
At MRC –
Brent Bozell; president/director; $422,804
Brent Baker; vice president; $126,300
David Martin; executive vp/asst. treasurer; $215,000
Dan Gainor; Business & Media Institute vice president; $122,400
Terry Jeffrey; CNSNews.com editor-in-chief; $122,400
At Media Matters –
David Brock; chairman/CEO; $286,804
Eric Burns; president; $240,579
Tate Williams; chief of staff; $162,812
Eric Boehlert; senior fellow; $115,000
Ari Rabin-Havt; VP-communications and strategy; $134,484
Keep in mind that these individuals, composed of a statistically significant number of men named Brent, are not journalists or reporters. Rather, they monitor existing news reports, assess them, and present that information, however filtered through or particular lens or agenda, to the public ("Like Mediaite editors!" one of you might write, perhaps with a quip about the estimated weight, sexual orientation or living situation of any given Mediaite editor). In the words of [REDACTED], a jaded media type with firsthand experience of such organizations, these are "well-paid lawyers in a well-funded sport of diminishing media entities disguised as revealing bias."
So, from where does this money come? MRC receives funding from a number of sources, including Exxon Mobil. (According to SourceWatch.org, other sources include The Lynde and Harry Bradley Foundation, Inc, the Sarah Scaife Foundation, the Castle Rock Foundation, the John M. Olin Foundation, Inc, the The Carthage Foundation and the JM Foundation.)
Media Matters, meanwhile, receives "more than $2 million in donations from wealthy liberals," (again, according to SourceWatch), such "Leo Hindery, Jr., the former cable magnate; Susie Tompkins Buell, who is co-founder of the fashion company Esprit and is close to Senator Hillary Rodham Clinton of New York, and Ms. Buell's husband Mark; and James C. Hormel, a San Francisco philanthropist whose appointment as ambassador to Luxembourg was delayed for a year and a half in the late 1990's by conservative lawmakers protesting what they called his promotion of a 'gay lifestyle.'" It also receives funds from the Democracy Alliance.
Have a tip we should know? tips@mediaite.com