Who Saw This Coming? Christian Radio Host: God 'Guided' History Channel To Show Obama Is Satan
Radio Host: God 'Guided' History Channel To Show Obama Is Satan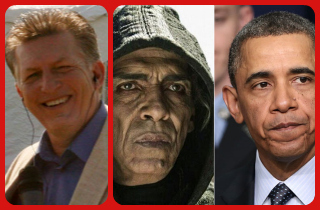 After every major disaster, media controversy, political battle, or sporting event, one thing is almost always certain: some Christian radio host will declare that God intended for it to happen.
The latest event begging for a "God did it" explanation was the "controversy" over History Channel mini-series The Bible's Satan character looking an awful lot like President Obama. On Wednesday afternoon, TruNews host Rick Wiles filled that vacuum, swooping in to proclaim that the lord himself "guided" the network to expose the president for what he really is: THE DEVIL.
"As Mr. Obama prepares to enter Jerusalem this week, days before Passover, another massive swarm of locusts have entered southern Israel," Wiles explained, "he is not only facing a biblical plague of locust in the Middle East; he is also being compared to Satan in the popular The Bible series on the History Channel."
– RELATED: Christian Radio Host: God Didn't Stop CT Shooting Because We Took Prayer Out Of Classroom
Again, there was no comparison being made by the actual series. The "being compared" part happened when Twitter users, including Glenn Beck, jokingly noted the similarities.
Despite admitting that he "believes" series producer Mark Burnett's claims that the resemblance was purely unintentional and without any political malice, Wiles suggested the character selection was of… divine intentions:
"I don't believe they intentionally portrayed the Lucifer character to look like Mr. Obama. I think God guided the hand of the makeup artist and blinded the eyes of everybody on the movie set while it was being recorded, and the spiritual blinders were removed Sunday night when the program was broadcast nationally on the History Channel. How many clues do we need from Heaven to understand that the man in the White House is a devil from Hell?"
Listen below, via TruNews:
[h/t
Right Wing Watch
]
Have a tip we should know? tips@mediaite.com