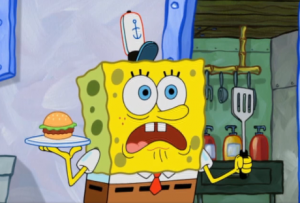 Get ready to have your childhood ruined, because Spongebob Squarepants is now being dragged into a political debate. In an upcoming special episode of the long-running Nickelodeon show, Spongebob gets fired by Mr. Krabs so his greedy boss can save literally one nickle. And the way Spongebob conducts himself in the episode is garnering him some praise from the conservative media.
Now, you might think, "Oh, that makes sense for Spongebob's character, since he's a proud and honest worker who had to be forcibly dragged out of the Krusty Krab to go on a nice, relaxing vacation." But some conservative media outlets are jumping on it as a parable about work ethic and welfare in the modern era.
Last week The New York Post wrote up a piece on the episode, saying that "Lest he sit around idly, mooching off the social services of Bikini Bottom, a depressed SpongeBob sets out to return to gainful employment wherever he can find it." Fox News also joined in on the fun, with a brief segment striking roughly the same tone about Spongebob pulling himself up by his… spongestraps?… and getting back to work. Breitbart's Big Hollywood site also took note of the news, as well as The Washington Times.
Media Matters, of course, was bothered by the right-wing Spongebob embrace and fought back against outlets using Spongebob's firing to "attack the social safety net and those who rely on it."
Before this goes any further, could we please just right now agree not to allow ourselves to get to a point where fully-grown adults are fighting over a children's TV show?
Watch a preview of the episode, airing November 11th, from earlier this year, via Nickelodeon:
And a Fox News clip about the episode here:
[h/t MoJo]
[photo via screengrab]
— —
Follow Josh Feldman on Twitter: @feldmaniac
Have a tip we should know? tips@mediaite.com
Josh Feldman - Senior Editor