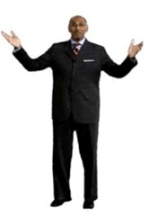 RNC Chairman Michael Steele started July dealing with a video of him knocking the merits of the War in Afghanistan, and since then he's laid low (even an August fundraiser has been moved to September).
But why was he trying to set up meetings with foreign diplomats?
Politico reports today on the series of emails sent from an RNC intern attempting to set up meetings with diplomats before the November election:
An RNC intern sent a message late last month to at least one ambassador on behalf of Neil Alpert, a senior finance aide, with little explanation.

"As you know, the November election is just 103 days away and the Chairman would like to extend to you an invitation to sit down either at the RNC or at your embassy to discuss the upcoming 2010 midterm elections," wrote Christopher Kelleher, a finance department intern. "With literally hundreds of congressional seats up for grabs in just under four months, Chairman Steel [sic] would love to have the opportunity to discuss the Party's outlook with you."
Yes, that would be misspelled, unsolicited emails to foreign diplomats. Odd – but also somewhat unnecessary. "They can't give any money and they can't vote," said former RNC Chairman Jim Nicholson. "I don't know why you'd take time to do it."
Well Politico has a theory – or at least some details about the way it appears. "The idea that he would be looking for face-time with foreign ambassadors instead of trying to raise money for the party underscores the view that he's in the job to promote himself instead of the GOP," writes Jonathan Martin and Josh Gerstein.
It's actually pretty impressive that, despite the wide variety of mishaps over his reign as RNC Chairman, Steele remains head of the party. But he's currently in the mode of avoiding the media – a tough attribute while he tries to prop up his party in the lead-up to important midterm elections. These emails, while more outlandish than outrageous, get put on the long, strange list.
For what it's worth, one thing the RNC has had prior success with is back today – funny e-cards! Today, in honor of Pres. Obama's birthday: BaracksBirthdayCards.com.
—–
» Follow Steve Krakauer on Twitter
Have a tip we should know? tips@mediaite.com