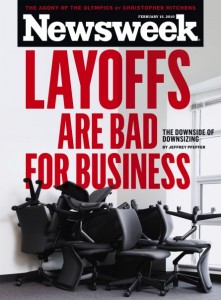 If anyone is interested in purchasing a news weekly, now is their chance. Parent Washington Post company announced today that Newsweek is on the market, and has retained Allen & Company to explore the possible sale of the weekly title. While many will see this as chance to dance on the weekly magazine's collective grave, there are some good reasons to think that now is a great time for WaPo to make this move.
First of all, in a seemingly odd way to announce that you're on the block, Newsweek's "for sale" sign was first posted on…Newsweek:
The Washington Post Co. announced today that it has retained Allen & Company to explore the possible sale of NEWSWEEK magazine. The newsweekly was launched in 1933 and purchased by The Washington Post Co. in 1961.

NEWSWEEK is an internationally known and respected publication, providing unique news, commentary, and insight into political and social developments in the United States and around the world.

"The losses at NEWSWEEK in 2007-2009 are a matter of record. Despite heroic efforts on the part of NEWSWEEK's management and staff, we expect it to still lose money in 2010. We are exploring all options to fix that problem," said Donald E. Graham, chairman of The Washington Post Co. "NEWSWEEK is a lively, important magazine and website, and in the current climate, it might be a better fit elsewhere."
The writing was on the wall a few weeks back when news broke that Newsweek would be moving its staff, from its brand-new and cushy Tribeca offices, to its more mundane confines in Midtown Manhattan. These would be the offices that they JUST MOVED INTO last June, and the fact that Kaplan would be taking over…well, it just reinforced what everyone already knew. Kaplan is another subsidiary of the Washington Post company, that has become a cash cow best known for its higher education programs, professional training courses and test preparation products. So it would make sense for them to have the coolest offices.
But while moving was admittedly a pain, sources within the magazine spun this as a smart move, not just because it solved a serious space problem for Kaplan, but also saved Newsweek significant money each year. Cynics might see this as a "cheap" and effective way to quickly improve the bottom line, ostensibly to impress prospective buyers.
And what of prospective buyers? Who would want to buy a weekly title that lost a bunch of money last year? Well the truth is that the financial picture of Newsweek is much healthier than one might think. Last year was a big financial loss, which made a number of headlines. But as we said then, it wasn't nearly as bad as it was reported.
It is true that Newsweek lost roughly $28 million in the last year. But to fully appreciate that number, one need remember that roughly two-thirds of that amount came in the the first quarter of last year, and included a write-down of over $6MM in severance packages. Further, Q2 of '09 saw roughly $5MM in losses, and Q3 roughly $4MM. Q4? Newsweek actually turned a small yet significant profit of $400k in Q4 of 2009.
Sources close to the title tell us that the first quarter of 2010 was also encouraging – ad sales efforts met their budget and print ad numbers for the months of March and April, perhaps owing as much to the end of the ad recession as anything else. The bottom line is that Newsweek is seeing ad revenues return to pre-recession levels, and combined with a rather dramatic reduction in losses, the weekly news title is moving very close to hitting their break even target for 2011.
One would have to think that selling Newsweek when it is growing and in a stronger media market is preferable to selling it in a down market like last year, which is probably why the decision was made now. Newsweek is a very big brand, and a much stronger asset than others that have been sold recently (BusinessWeek, Philly Inquirer).
Time will tell just how valuable a brand Newsweek. And while they have relatively recently become far more aggressive in the digital space, one can't help but wonder if, had they had more foresight roughly ten years ago, this would be an entirely different discussion. Because its hard to imagine anyone getting terribly excited by the print weekly business (even if it is breaking even). A news brand with Newsweek's history? Well, that in fact might be worth something.
Have a tip we should know? tips@mediaite.com
Colby Hall - Founding Editor