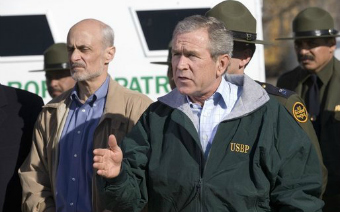 On paper, President Barack Obama has a Latino voter problem: he has deported more illegal immigrants in the first three years of his presidency than President George W. Bush did in his entire eight-year presidency. He seems to understand this, given his new immigration directive. And Republicans do too, but they've yet to properly exploit it. The secret lies in taking a page out of the playbook of years past.
A recent PPP poll found Obama beating Romney among Latino voters 61% to 32%. Another survey found a significant increase in enthusiasm among Latinos following the announcement. And it's not just Latino voters who like the policy. A recent Bloomberg poll found that 64% of likely voters said they agreed with Obama's new policy. So it's clear that Americans want some reform that doesn't involve shutting down the borders entirely and treating illegal immigrants like livestock.
Conservative columnist George Will said that Republican nominee Mitt Romney will lose the election if he fails to secure 31% of the Latino vote, based on the fact that many polls suggest that the gap between Romney and Obama could be closed if only Romney secures the Latino population's vote.
Reason's Nick Gillespie writes that Obama's new "gesture – and it's little more than that, as it at best covers 800,000 of an estimated 11 million to 12 million illegals – is weaker beer than a case of Natural Light." And yet, Gillespie points out, the Republican Party "has no serious counter-offer" while openly attacking people like Texas Gov. Rick Perry, whose support for a more "humane" approach to immigration may have cost him the primary.
If Romney and the GOP are seriously interested in capturing more of that Latino vote, they're going to need to do much better than the much-mocked "self-deportation," and a worker-verification program that Gillespie describes as a "nightmare."
Republicans should look back to the sage advice of… George W. Bush. In a 2001 speech at Ellis Island, he called for relaxed immigration rules, promising (but ultimately failing) to improve the government's efficiency by processing all U.S. citizenship applications in no more than six months. He also added:
Immigration is not a problem to be solved, it is a sign of a confident and successful nation. Their arrival should be greeted not with suspicion and resentment, but with openness and courtesy.
Right. And this sort of attitude towards immigration has generally worked for Republicans in the past. In his 2004 re-election, Bush pulled nearly 44% of the Latino vote. Fellow Texan (and immigration bleeding-heart) Rick Perry got 38% of the Hispanic vote in the 2010 Texas gubernatorial race.
Republicans would benefit from following the sage advice of George W. Bush, and of Ronald Reagan, whose 1986 "amnesty" law opened up citizenship for and successfully absorbed 3 million illegal immigrants.
If not those two presidents, then maybe Republicans should listen to a sentiment that many Americans feel, and is best captured in Bruce Springsteen's "American Land" lyrics: "The hands that built the country we're always trying to keep out."
>> Follow Andrew Kirell (@AndrewKirell) on Twitter
Have a tip we should know? tips@mediaite.com