Why the Public's Collective Consciousness Was Right to Forget Cruz's 'Sex Scandal'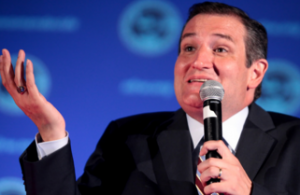 Certain stories have remained relevant during the last year or so as the fight for the White House has raged. Donald Trump calling Mexicans rapists is still a hot topic, all these months later. The feud between Megyn Kelly and Trump is, too. Even Hillary Clinton barking like a dog has been brought up time and time again.
One story that made a big impression the day of its release but seemed not to stick was the National Enquirer's accusation that Ted Cruz has a whole bunch of mistresses. It had all of the elements required for a massive shake-up: There was an ostensibly pious candidate, there was a demure wife, there were pretty young women with political aspirations, and there was a magazine that has correctly I.D.'d cheaters in the past and is helmed by a friend of the GOP's frontrunner.
So, where did it go? How did this story disappear so quickly? Why?
Slate interviewed David Perel, who was editor-in-chief at the Enquirer when the magazine outed John Edwards for cheating with and impregnating Rielle Hunter. He has since moved over to the EIC position at In Touch. He explained how he felt after Trump applauded the tabloid for always being so spot-on when it comes to affairs:
I wanted to call him and thank him and then tell him to make sure to buy In Touch. Because that's where the people who reported those stories are now. I brought them with me. … No one has printed a story that says Ted Cruz had an affair and here's the proof. It's not a parallel [to the Edwards bombshell].
The piece went on to highlight all of the work and legitimacy behind the Edwards-Hunter story, which the Cruz story is lacking.
And time marches on.
[image via Gage Skidmore]
For more from Lindsey, follow her on Twitter.
This is an opinion piece. The views expressed in this article are those of just the author.