WikiLeaks Asks Trump to Make Julian Assange Head of U.S-Russia Cybersecurity Unit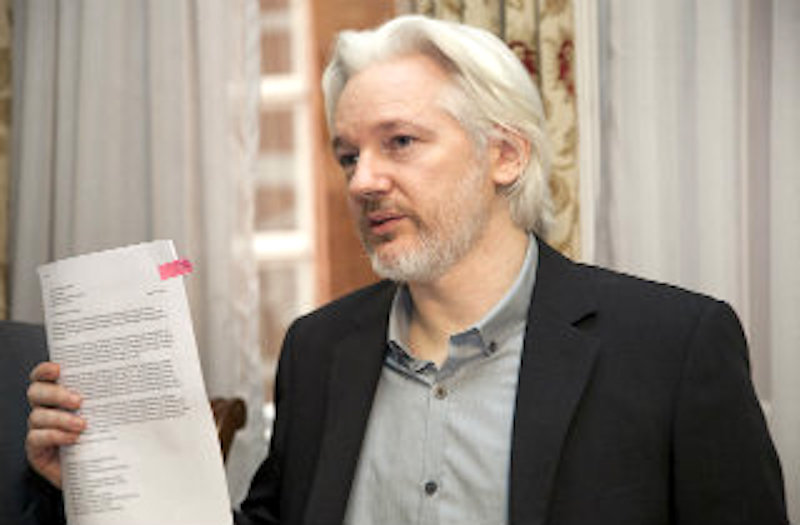 President Trump is proposing the creation of a Russian-American cybersecurity partnership, and WikiLeaks knows just who should be chosen to head the unit.
Trump got a lot of attention on Sunday when he launched a tweetstorm about how it's time to stop fussing over Russia's 2016 election interference and start considering mutual interests. As Trump tweeted about his G20 meeting with Vladimir Putin, he brought up a project the two leaders supposedly discussed
Putin & I discussed forming an impenetrable Cyber Security unit so that election hacking, & many other negative things, will be guarded..

— Donald J. Trump (@realDonaldTrump) July 9, 2017
Shortly afterwards, WikiLeaks replied to Trump's tweet by saying their organization's founder, Julian Assange, should lead the effort:
Why not put @JulianAssange in charge of it? He's trusted by the public and has the CIA's best stuff anyway https://t.co/K7wFTdlC82

— WikiLeaks (@wikileaks) July 9, 2017
During the 2016 election, WikiLeaks published a trove of hacked emails from John Podesta and the Democratic National Committee, which resulted in multiple scandals for Trump's rival, Hillary Clinton. American intelligence figures believe WikiLeaks has connections to Russian officials, and in today's tweet, WikiLeaks referenced how they hacked the CIA back in March.
Later in the day, Trump seemed to backtrack from what he floated about a mutual cybersecurity project with Russia:
The fact that President Putin and I discussed a Cyber Security unit doesn't mean I think it can happen. It can't-but a ceasefire can,& did!

— Donald J. Trump (@realDonaldTrump) July 10, 2017
[Image via screengrab]
— —
>> Follow Ken Meyer (@KenMeyer91) on Twitter
Have a tip we should know? tips@mediaite.com