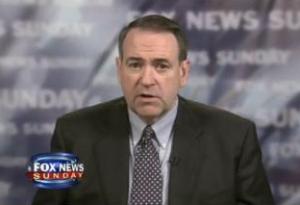 Mike Huckabee is a media star (although not at the level of Sarah Palin) and a GOP presidential contender for 2012.
But now Huckabee's history is intersecting with a suspect accused of killing four police officers in Washington state – who he granted clemency as Arkansas Governor in 2000.
The Seattle Times reports Huckabee granted Maurice Clemmons clemency after he served 11 years for burglary and theft of property. "News accounts say Huckabee commuted Clemmons' sentence, citing Clemmons' young age at the time the crimes were committed," reports the Times.
But Clemmons' history of crime started up almost immediately after, including posting bail just six days ago for second-degree rape of a child. This morning he's being surrounded by cops at a family home after he's been accused of executing four police officers in Lakewood, WA.
And now Huckabee is being tied to the story. His blog, HuckPAC, responded with a blog post last night, that served to divert the blame and attention away from Huckabee:
He was recommended for and received a commutation of his original sentence from 1990, this commutation made him parole eligible and he was then paroled by the parole board once they determined he met the conditions at that time…It appears that he has continued to have a string of criminal and psychotic behavior but was not kept incarcerated by either state.
One key conservative media member, Michelle Malkin, is putting some blame on Huckabee, however. And this isn't the first time a Huckabee-ignited pardon has reached mainstream media status – Ben Smith of Politico brings up the 2008 presidential campaign when Mitt Romney made the story of a rapist Huckabee advocated parole for raped and murdered another woman.
This comes on the heels, however, of the strongest hints by Huckabee that he's not even looking to run in 2012. On FOX News Sunday yesterday, he told Chris Wallace, "The reason I wouldn't is because this Fox gig I've got right now is really, really wonderful," describing his weekend show on FNC. "I am nowhere near ready to say that's what I want to do three years from now."
More from Huckabee: "A lot of it depends on how the elections turn out next year, and whether Roger Ailes continues to like my show on the weekends."
And maybe some of it will depend on if an upcoming Clemmons trial turns into a referendum on Huckabee's clemency tactics as Arkansas Governor.
Here's Huckabee's appearance on FOX News Sunday, with the presidential discussion beginning around the 10-minute mark:


—–
» Follow Steve Krakauer on Twitter

Have a tip we should know? [email protected]