'Willfully Negligent': Obama Writes HuffPost Op-Ed All About 'Republican Obstructionism'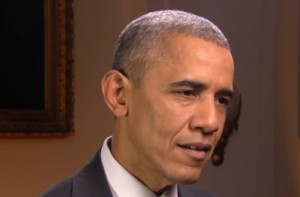 Ahead of the VP debate tonight, President Obama has a new op-ed for The Huffington Post today focused on the subject of Republican obstructionism.
As the president's second term winds down, it's clear this is a topic very much on his mind. It was a large chuck of a recent interview he gave.
Writing for HuffPo today, Obama focuses mostly on Republicans refusing to take up his Supreme Court nominee Merrick Garland, saying that "in a city of self-inflicted wounds, this one is more dangerous and less defensible than most."
The subtext here is pretty clear. He's pissed off:
Republicans have long been resolved to defeat proposals I've put forward or supported on everything from equal pay, immigration reform and increasing the minimum wage, to expanding commonsense background checks for those who want to purchase a gun, and basic protections for American workers against discrimination based on who they love or how they identify.

Republican leaders in Congress have proven they won't work with my Administration, but along the way, they've lost sight of their basic mission. They can't even meet their own goals.
He encourages people to call their representatives and make them do their jobs, because "by hobbling the Supreme Court for what could be a year or longer, Republicans are eroding one of the core institutions of American democracy."
You can read Obama's full op-ed here.
(P.S. Keep an eye out for if any of these make it into Tim Kaine's debate answers tonight.)
[image via screengrab]
— —
Follow Josh Feldman on Twitter: @feldmaniac
Have a tip we should know? tips@mediaite.com
Josh Feldman - Senior Editor