Winners Of The Week: Hillary, Greta, Cuomo (The TV One), The Next Turner And Meticulous MSNBC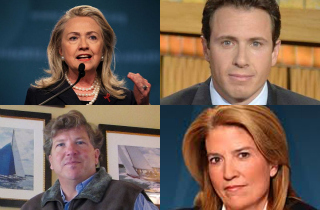 In a week when political media itself was under more scrutiny than the subjects it covers, cable news had plenty to talk about, and more importantly, to reflect on.
From a co-ed softball interview performed by a once-proud news program, to Chris Cuomo becoming Jeff Zucker's next Matt Lauer at CNN, we have plenty of imaginary hardware to dole out as the calendar turns to February.
Winner: Hillary Clinton
60 Minutes used to be a venue most feared to visit. But thanks to an interview even liberal pundits are calling comical, the brand has gone from the heights of a Mike Wallace verbal waterboarding down to the friendly confines of a Larry King lovefest…the latter of which transpired last Sunday night during a sociable sit-down with the President and Hillary Clinton.
Interviewer Steve Kroft later admitted to Piers Morgan a preference to not play a game of "gotcha" with Mr. Obama and the outgoing Secretary of State, a tactic which, ya know… is only what the show used to be famous for.
Kirsten Powers, former press secretary for Andrew Cuomo (D-NY) and current Fox News contributor: "It really was something you'd expect from the state-run media. It was that kind of level of propaganda… This was a joke."
Powers and criticism from most other outlets aside, the CBS interview was seen by 11.5 million people, thereby touching off a social media avalanche urging the former First Lady to make a run at the White House in 2016. On cue, a Hillary Super PAC was just launched this week (the first primary debate is something like three weeks away, so this only makes sense…)
Clinton leaves the State Department with a 69 percent approval rating.
Joe Biden might want to think about other travel options outside of Air Force One come 2016.
Winner: Greta Van Susteren
If Hillary does make a run for the White House, it appears she'll be applying the same mantra her former boss did in getting re-elected in November:
Blame the other guy…
During an interview with Van Susteren, Mrs. Clinton was asked about improvements to security measures at U.S. Embassies and Consulates around the world in light of 9/11/12 terrorist attack that saw four Americans murdered.
Clinton: "You have to have the right people and the right job, making the right decisions. But money is a factor. And ever since the Bush administration, our requests for security monies from Congress have not been met. So you've had to make priority decisions. And it's been difficult."
Of course, there has been a successor to George W. Bush in office since 2009 who could have resolved the whole funds/security issue sometime over the past four years, but, well…you can fill in the rest in the friendly comments section below.
As for Van Susteren, she not only wins for landing Fox News a rare interview with a high-ranking, highly popular Democrat (the first since Jon Stewart), but for defending the network itself against allegations from the President that Fox was hurting the Republican Party's ability to compromise.
Forgotten by Mr. Obama, of course, was a recent GOP concession during Fiscal Cliff "negotiations"…where congressional Republicans voted to raise taxes for the first time in two decades, resulting in $620 billion in new tax revenue. In return, the President offered, well, nothing regarding deficit/debt reduction or entitlement reform. And the Democratic-controlled Senate has yet to produce a budget in over four years, but no matter.
So exactly how Fox (and Rush Limbaugh) are hampering the GOP's ability to compromise is a tough sell for a President who—according to Bob Woodward in the best-selling The Price of Politics—is fantastically challenged in terms of his ability to negotiate.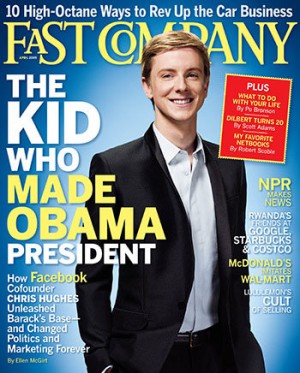 Greta on the President's Fox-intimidation perspective: Some Democrats have told me that they want to come on Fox to discuss issues but they get heat from their Leadership for appearing on Fox. Does President Obama know that? So which Party is intimidating its members?" She would later add, "Apparently President Obama wants his usual media pass and Fox challenges his policies – which happens to be the media's job."
She's exactly right: For the President to directly call out one media outlet while specifically omitting its cable polar opposite (MSNBC), and to do so during an interview given to a former senior member of his campaign (Chris Hughes, owner of The New Republic, right), is hypocrisy in its purest form.
Winner: Chris Cuomo
The former ABCer will now be tasked with saving a sinking CNN morning ship, which in the past year has descended faster than Jack Dawson. The Cuomo poach is another grand stroke by Jeff Zucker, who already lured away from ABC a highly-respected Jake Tapper as well as the talented Rachel Nichols from ESPN, where she primarily reported on hard sports news stories for the acclaimed E:60.
Cuomo, who served as a news anchor at Good Morning America from 2006 to 2009, was shunned in favor of George Stephanopoulos as co-host of the show. Now he gets the job he wanted, and from a starting position where the only way to go is up.
Winner: MSNBC
For meticulously reviewing a controversial edit around a Newtown father's testimony and the (delayed, prompted, respectful) reaction of gun advocates in the audience.
Now three days later, the network is still in the process of reviewing the edit and consequently has yet to make a public statement on widespread charges of deceptive editing. Ultimately it's doesn't matter: The genie is already out of the bottle via every anchor on MSNBC already having used the deceptive edited footage to attack whom they call "gun nuts" for "heckling" a grieving Dad who lost his child in the shooting.
Note: A similar scenario happened during Sean Hannity's FNC program in 2009, when it aired video from a huge "9/12" March on Washington while talking about Michele Bachmann's (R-MN) much smaller anti-health care reform rally. Hannity claimed 20,000 people showed up to Bachmann's protest, when the number was actually substantially smaller.
Jon Stewart (who must also be taking days to closely study the MSNBC Newtown edit since it hasn't been mentioned on his show as of this writing) eviscerated Hannity for the edit, which prompted the Fox host to apologize on the air. Say what you will about his politics, but at least he took responsibility.
So will MSNBC do the same for an edit clearly altered to fit a desired narrative?
Cue the Jeopardy theme…now.
Winner: Teddy Turner
For maintaining composure after multiple interviews that were largely comprised of having to defend comments made by an American media mogul who happens to be his Dad.
For those outside the bubble, Teddy is running for Congress in South Carolina, an uncrowded race for an open seat that includes Mark Sanford (yup, that one), Stephen Colbert's sister, two Democrats, and eight other Republicans.
The latest interesting exchange was heard this week on Andrea Tantaros' national radio show, where the host broached the elder Turner's past comments (to Charlie Rose) that global warming will lead to mass cannibalism (due to a stoppage in crop growth) "in 30 to 40 years".
Teddy, realizing that talk of cannibalism and climate change could take him slightly off message, pivoted nicely:
"The end of the world is much closer than we think, but it has to do more with our national debt than it has to do with getting warm. Climate change to me is a smoke screen…it pales in comparison to what we're doing to our economy."
Official records indicate Teddy wasn't adopted…
Winner: San Francisco
Okay, this is more of a prediction on the winner of Super Bowl XLVII: 49ers 30, Ravens 27 (which means if gambling were legal, Baltimore covers the 3.5 spread).
MVP: San Fran QB Colin Kaepernick, who was five years old when Hillary first entered the White House in 1993.
And with that, enjoy America's most celebrated unofficial holiday.
— —
>> Follow Joe Concha (@ConchSports) on Twitter
Have a tip we should know? tips@mediaite.com