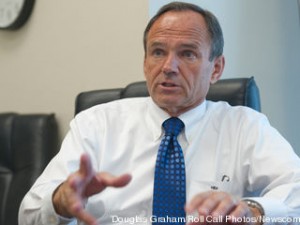 One of the Republican state Senators facing a recall campaign in Wisconsin, Sen. Dan Kapanke, has announced that he has been subject to vandalism and death threats as a result of his support for Gov. Scott Walker's newly passed law curtailing public employee unions — and as a result, is canceling some local events in his district.
The Wisconsin State Journal reports:
Sen. Dan Kapanke has canceled upcoming district meetings after being the target of threats and vandalism. Rose Smyrski, Kapanke's chief of staff, said the senator's car window was smashed in Madison, and his wife found nails scattered in the driveway of their French Island home.

He also received death threats.

The second-term Republican had scheduled a listening session Friday in Ontario and office hours Monday in West Salem. Another meeting in La Farge had not been announced, legislative aide Hannah Huffman said.
One prominent local Democrat and opponent of the new law, state Rep. Jennifer Shilling, issued a statement condemning the reported vandalism and threats. Shilling's Assembly district is located within Kapanke's Senate district, and she could potentially become a candidate against him in a recall.
"I have said from the beginning of this session that those involved in political discourse have a responsibility to engage in meaningful debate and do so in a way that does not tear down our country or each other," said Shilling. "I am once again calling for all citizens to make their voices heard and participate in this debate peacefully."

This post was written by Eric Kleefeld for Talking Points Memo and is has been republished here via a content sharing agreement.
Have a tip we should know? tips@mediaite.com